World-Changing Implications
By Paul S. Williams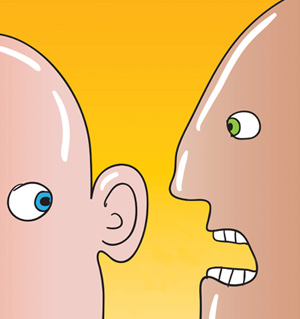 A single gesture of kindness has the power of that proverbial butterfly in Japan. You know, the one whose fluttering wings can change the weather across the entire globe. I've seen dark New Yorkers crack smiles after a single thoughtful affirmation. One ticket agent at a New York airport credits me with helping her find a husband. She says one encouraging comment lifted her spirits so much that she was unusually friendly to the passenger behind me, the stranger she eventually married!
I believe one single, practiced communication skill could change the world. This one change, were it adopted, could end wars and promote peace. Really. What could bring about such colossal change?
I believe we could change the world if we would listen instead of planning a response. That's it. Pure and simple listening. Deep listening—as elusive as a World Series for the Chicago Cubs.
Good therapists know this. They know gold comes from silence. A patient talks, then pauses, and the therapist waits. The silence is uncomfortable, but still the therapist waits until the patient speaks again. It is often the thought that follows the silence that brings the greatest insight—knowledge that would have remained hidden had it not been for a good listener.
Unfortunately, most of us are not good listeners. We do not listen. We plan. We catch a word or two of what the other person is saying, and use those words to plot our next brilliant story, compelling argument, or bright witticism. We are not listening. We are plotting.
What might happen in theological debate if we stopped and listened intently to what the other person was saying? What if we listened as if we had no opinion, as if we were truly open? How much understanding might we gain? How much wisdom might we accumulate?
But alas, I need not delve into the possibilities because I know the truth. People would rather talk than listen. I would rather talk than listen. I would rather use my brilliant loquaciousness to convince you of my superior intellect than listen to whatever lame thoughts you might have. Come to think of it, that may be one of the reasons I love writing this column. I get to talk, in a manner of speaking, and you get to listen. Hmmm. This might be a problem.
Ah, but thank goodness for those letters to the editor. I do enjoy most of them, including the ones that take me on with vigorous enthusiasm. The give-and-take is good for us—both of us—you and me. We enjoy publishing as many as we can accommodate. We put the rest online.
So keep those letters and e-mails coming. And I will keep listening, deeply and openly. I promise. I will. And if listening catches on, who knows, we might learn to love our neighbors.

Leave a Response