So Long to Good-Byes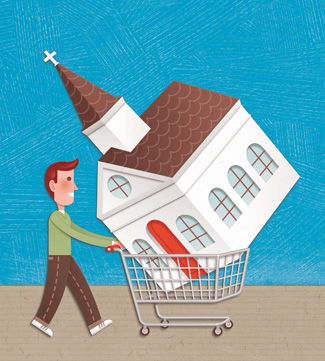 By Cal Jernigan
Perhaps you heard the story of the man who was stranded alone on a deserted island for a number of years. One day a ship appeared on the horizon, noticed him, and sent some men ashore to rescue him.
While helping him gather his scant belongings, the rescuers noticed three huts clustered together and asked the man about them. The man pointed to one of the huts and explained that it served as his house, and then he pointed to another and explained that it was where he went to church.
The man stopped without mentioning the third hut, so his rescuers pressed him. "Oh that," the man said disgustedly, "that's where I used to go to church."
What makes this story funny is the absurdity of it if it were true. What makes the story tragic is that we understand just how true it might be.
Is Anybody Else Bothered by This?
Something very disturbing is happening in the church these days. People are choosing to change churches at unprecedented rates, and often for the most trivial reasons. Call it "church shopping," "church hopping," or "dating the church," this trend should sound the alarm to those who care about the welfare of the bride of Christ.
It seems just about every church leader I talk to is taking notice of this. The animated cartoon King of the Hill even dedicated an episode to it. (Are you kidding me!) Apparently, church hopping has become the new pastime of Christians, and even the world has noticed.
The Barna Group claims a whopping 45 percent of Americans said they are open to changing their current church home.* Some people do, in fact, change, while others rotate their attendance between a carefully chosen handful of churches. Sadly, it's not uncommon to talk to someone who divides his or her loyalties weekly between several different churches by taking in the preaching of one, the worship of another, and the children's program of a third.
Much has been written about the creeping influence of consumerism in the church, and many are seeing it firsthand. America is a designer nation—we are a people obsessed with having our individual needs met, and we have become indoctrinated with the belief that it is our right to have things our way.
Many people today approach church with the same casual mind-set as choosing something far less significant (a restaurant or a movie theater). For a growing number of people, where they will go to church this weekend depends simply on what's being served or what's showing (or, in many cases, who's showing!).
To be fair, there certainly are reasons that justify leaving one church to become a member of another: false doctrine being taught, the gospel not being preached, some form of corruption in the church that isn't being addressed, a tolerance for sin, etc. I think most church leaders are willing to acknowledge there are times when people are wise to change churches when the seasons of their lives change, or to seek fellowship at a church that has an outstanding emphasis in an area where they are most in need. If this is done respectfully then all is well.
Why Do People Leave?
Truth be known, our reasons for leaving one church for another are often not so noble. We leave because we have become disgruntled and would rather change our environment than change ourselves. The possibilities are numerous: we don't like the music, or the choice of instruments, or the volume, or the personality of someone, or the focus of the mission of the church, or . . . the list is endless.
Perhaps what is most disturbing about leaving one church for another is the apparent need to justify our reasons to others. In doing so, seeds of division and discord are sown within the body left behind. Seldom, if ever, it seems, does the problem or blame lie with the people who are leaving. Rather, it is always about a flaw or a fault they perceive in the church, which they seem bent on describing in great detail. Is this not just the voice of guilt speaking? Again, what you'll not hear is a confession that the problem is theirs.
(My secret fantasy is that one day I will hear someone actually confessing blame: "We're leaving because we're incredibly shallow people who feel convicted by the intense preaching of the Word of God in this place and are going to find a church that caters to our self-centeredness and where we don't fall under the conviction of the Spirit of God like we do here." But I digress).
What Is Fueling This Epidemic?
I suppose there are many reasons (like the rise of consumerism mentioned above), but a short list would have to include the following:
• A loss of commitment to any specific denomination or brotherhood of churches. This isn't breaking news, but the fallout of this trend continues to breed a lack of loyalty in the lives of those who attend church. Fewer people now understand the distinctive history, purpose, and doctrine of any church they attend.
• The rising influence of social media. These days we all have the potential to be aware of what's happening in the lives of our friends, down to the smallest details. We know when someone's checking out another church and we hear their "review" of it. If someone switches, they can invite all their friends to join them in their new setting. Just hearing this sort of stuff can cause a previously content person to become restless.
• The marketing/seeker/attractional mind-set of the church. Churches have learned how to cater to the needs of the consumer, and they have had to become increasingly more savvy at positioning their church as cooler, or hipper, than the church down the block.
In our community, we have no less than 10 megachurches within a 15-minute drive of our campuses. It seems like one of these is always the "flavor of the month," attracting a crowd because of what it's currently offering.
• An ever-increasing belief that our happiness means more to God than our holiness. Maybe this is at the core of it. "I have a right to get whatever it is I want, and I should be able to have church my way."
What's the Big Deal? Who Cares?
Well, I would submit that this trend undermines the very reason Christ founded the church. The church is a community of believers who are bound together by a common bond of faith and practice. Can any of us really become what God intended us to be without the involvement of the Spirit of God in the rest of us? If you are not known well by a group of people, then who is capable or qualified to tell you what you need to hear (but don't want to)? Many people's intention in changing churches is to "fly under the radar" of the new church—to not know or be known.
Drew Goodmanson said it this way, "With the increased access online to preachers, teachers, and resources, many Christians may try to self-select their own content rather than participating in the life of a community. One unintended consequence is people will only seek out the things that interest them, therefore they will avoid the whole counsel of God's Word."
Is this a good thing? Ephesians 4:11-13 reminds us, "It was he who gave some to be apostles, some to be prophets, some to be evangelists, and some to be pastors and teachers, to prepare God's people for works of service, so that the body of Christ may be built up until we all reach unity in the faith and in the knowledge of the Son of God and become mature, attaining to the whole measure of the fullness of Christ." How can the body of Christ grow without roots?
Where Do We Go from Here?
I close by offering the following thoughts that could begin to turn the tide.
For those who attend a church:
• Determine to stay put. Instead of leaving when you get frustrated, why not
let God use the people of his church to shape your life and character? When you are most inclined to want to leave is probably when you are closest to having a breakthrough in your faith. Leave only after you have given the Spirit adequate time to lead you.
• Talk, don't run. Determine to resolve your disagreements in a biblical manner (Matthew 18). Set up an appointment with your minister to share your concerns. Ask specific questions with an open mind to understanding why things are the way they are.
• Think ownership, not membership. We have placed so much emphasis on membership in churches that we have come to believe it is the highest devotion we can express to our church. Instead, why not have an owner's mind-set? This is the difference between buying and renting. You stick with that with which you deeply identify.
To those who lead a church:
• Acknowledge it hurts when people leave! The pain serves to remind you of how much you care about people. It is always difficult not to take it personally, especially when friends and longtime members leave. When it stops hurting, you've stopped loving.
• Know your target! Teach the people of your church NOT to "evangelize" people from other churches! When you hold special events, clarify to the flock who they are, and are not, encouraged to invite.
• Don't encourage church hopping! Get to know the preachers at the other churches in your area. When you meet someone from another church who's checking out your church, assure them that you are friends with the minister they are leaving and that you believe they need to "go home."
Stay true to your core purposes. Every church has its unique calling and unique touch of God's fingerprint upon it. Stay true to what God has called you to do and to be. Failing to do this will cause you to morph into something you weren't created to be.
Preach the Word . . . then preach the Word some more. The more people are taught the biblical purposes of the church, the more inclined they will be to live consistent with the biblical mandate Christ has for his church. In the end, it's usually the church holding the Word highest that draws the best crowd.
________
*"Americans Are Exploring New Ways of Experiencing God," The Barna Group, June 8, 2009.
Cal Jernigan has served as senior pastor with Central Christian Church in Mesa, Arizona, since 1999.

10 Comments
Leave a Response