A Dark Wood
By Paul S. Williams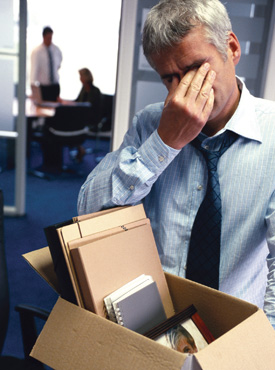 One of my favorite quotes is from Dante Alighieri, who began The Divine Comedy with these words: "In the middle of the road of my life I awoke in a dark wood where the true way was wholly lost." These days many Americans are resonating with the words of the great Italian. The Great Recession has created a lot of dark woods.
As a nation we have always believed hard work will bring just rewards. If you weren't getting your slice of the American pie, it was because you were not working hard enough. Now we know better. In fact, we know what many minority groups have known for a very long time. The deck is rigged. The cards are not stacked evenly. A lot of us do not stand a chance.
I have a number of friends about my age who are out of work. All are too young to retire, and several cannot find a job. They are too educated, or it will take too long for them to be "brought up to speed." The assumption is that they do not have the flexibility or adaptability to learn new skills.
These friends are truly terrified. One former CEO and his wife are living with their young attorney daughter. He says, "What a crazy turn of events. I feel like I'm inside Alice in Wonderland."
As hard as Ben Bernanke is working, it looks like 10 percent unemployment is here to stay. The truth is that what is bad news for the American economy is not bad news for the church. I have a Jewish neighbor who had never been inside a church building until she went to a job fair at LifeBridge Christian Church in Longmont, Colorado. She said, "I loved the building, but I really liked the people. They cared. People don't care much in New Jersey." We both come from the East.
People turn to God in tough times. We can grouse about it or we can be glad for the advantage. Since everyone needs to network, let the church increase its focus on small groups. Since public services are stretched thinner than an unemployment check, let's find an unmet need and meet it, no strings attached. Let's stop trying to be the best church in the community and become the best church for the community.
No sane person requests tough times. Even Jesus acknowledged that. "Every day brings enough trouble of its own." Rahm Emmanuel, Barack Obama's first chief of staff, got a lot of grief when he said, "A crisis is a terrible thing to waste." But he had a point. With every crisis there is an opportunity.
May the church rise to the occasion in these tough times. May we do the work we have been called to do—bringing hope in the midst of troubled days. May we make a claim on people's lives, and lead them to a life that really counts. May we not squander the opportunity laid before us. May we convincingly say, "Lift up your eyes, for this is a new dawn."

1 Comment
Leave a Response