The Perfect Emblem
By Trevor Tolley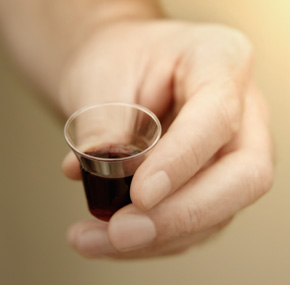 The emblems of the Lord's Supper, the fruit of the vine and the bread, uniquely communicate the message of Christ's death and resurrection. The emblems so perfectly illustrate the redemptive story that it smells of conspiracy. In other words, it seems Jesus did not choose, but instead created, the perfect emblems.
Have you ever considered the thought that the juice in a grape, if it remains in the grape, rots over time? But when, at just the right time, a grape is pressed or crushed, the juice can be put in a sealed container and preserved?
This idea brings three Scripture passages to mind:
• Isaiah 53:5 (a prophecy about Jesus' death on the cross)—"But he was pierced for our transgressions, he was crushed for our iniquities; the punishment that brought us peace was upon him, and by his wounds we are healed" (author emphasis).
• Romans 5:6, 8—"You see, at just the right time, when we were still powerless, Christ died for the ungodly. . . . But God demonstrates his own love for us in this: While we were still sinners, Christ died for us" (author emphasis).
• Ephesians 1:13, 14—"And you also were included in Christ when you heard the word of truth, the gospel of your salvation. Having believed, you were marked in him with a seal, the promised Holy Spirit, who is a deposit guaranteeing our inheritance until the redemption of those who are God's possession—to the praise of his glory" (author emphasis).
We know that, left to our own
power, we would rot spiritually in our sin. We know that in God's perfect timing, he sent his Son, who was crushed on a cross and died for our
sins. We know Jesus did not stay dead, but rose from the dead and has given us the Holy Spirit as a seal guaranteeing that one day we also will rise from the dead.
It is fascinating how the process of producing the fruit of the vine tells the gospel story. This is one more reminder at Communion time of the goodness and greatness of our Lord.
________________
Trevor Tolley is a high school teacher at Tree of Life Christian Schools in Columbus, Ohio, and serves as an elder at Worthington (Ohio) Christian Church.

Leave a Response