¿Hablas Espanol?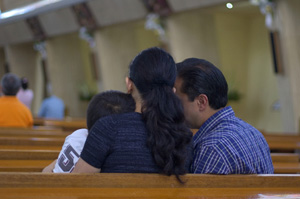 By Kent E. Fillinger
The odds are good that the face of your neighborhood has changed in the last decade, regardless of where you live, because "between 2000 and 2007 alone, the number of Hispanics grew in 2,991 of America's 3,141 counties."1
A recent Pew Research study said that "using 2009 population estimates from the American Community Survey, Hispanics accounted for 51 percent of the nation's population growth since the 2000 Census. From 2000 to 2010, the nation's population grew 9.7 percent. From 2000 to 2009 (the last year available), the Hispanic population grew 37 percent."2 Another study said by 2050, "non-Hispanic whites will become a minority, accounting for only 47 percent of the population."3
So how does a predominantly non-Hispanic, white fellowship of Christian churches and churches of Christ continue to embrace its changing communities by reaching Hispanics and other growing racial groups?
For the first time, this year we asked churches whether they offered any non-English language worship services.
An Encouraging Picture
It was encouraging to learn that more than one-third of the megachurches offered a non-English language worship service last year. Four emerging megachurches, eight large churches, and even two medium churches provided a worship service in a different language in 2010. These 33 churches are located in 16 different states, but eight of the churches are in California. Combined, only 14 percent of the 234 churches surveyed offered a non-English language worship service, so given the current and impending U.S. demographic shifts, this needs to be a significant area for development and growth over the next decade.
A quick review of several of our larger Christian colleges reveals that most offer an intercultural studies degree program that, in some cases, includes courses that could equip a ministry major to serve effectively cross-culturally in the United States. But my search did not identify a single college offering Spanish language courses to prepare someone to be bilingual. This would be an especially beneficial offering for youth ministry majors, given that "34 percent of all U.S. Hispanics are 18 years or younger."4
________
1Newsweek, 26 January 2009, 70.
2Found at http://census.pewsocialtrends.org/2011/report-hispanics-played-key-role-in-census-2010-growth.
3N.C. Aizenman, "By 2050, U.S. Whites Could Be Minority," The Indianapolis Star, 12 February 2008, A6.
4"Special Report: Reaching Hispanics, Samuel Rodriguez," Outreach Magazine, November/December 2007, 54.

Leave a Response