Living, Breathing Faith
By Paul S. Williams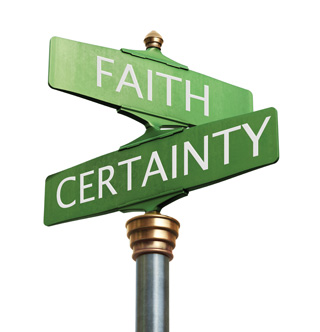 "I am a man of faith," my mentor explained. "I trust it will take me all the way through the night and into the morning. It is the hope I have." My friend was not a young man. He was 95 and knew the end was near. He considered his death to be one more opportunity to exercise faith, something he had done throughout a very difficult life.
Faith is not a game. It is no day at the park. Though media pundits like Bill Maher and popular scientists like Richard Dawkins treat religious faith as though it were nothing more than a Marxian opiate for the masses, true faith is far more dangerous. You step gingerly at your own risk when you inhabit the world of heartfelt, gut-wrenching faith.
I recently had a problem that required the application of an acid compound to the bottom of my left foot. When the doctor applied the concoction it tingled slightly. I thought, This isn't so bad. I went home and headed out for a five-mile run. When I could not walk the next morning and was still hobbling a week later, my sentiments toward the doctor were not admirable. Acid burns. Faith burns too.
In his book, Living Faith: Belief and Doubt in a Perilous World, French Nazi resister Jacques Ellul said, "Faith is a terribly caustic substance, a burning acid. It puts to the test every element of my life and society; it spares nothing. It leads me ineluctably to question my certitudes, all my moralities, beliefs, and policies."
Frederick Buechner suggested that faith and doubt are of the same substance, with doubt being the "ants in the pants" of faith. Not acid, but hardly comfortable.
Within some Christian circles, faith is assumed to live next door to certainty. But I find they don't even live on the same side of town, maybe not even in the same country. Certainty is elusive, if not impossible, to attain. Faith is attainable, but never easy.
Faith makes me confident in God, but suspicious of the certain confidence of humans. I resonate with the words of Ellul, who humbly concludes Living Faith by writing: "It (faith) is the surest road to realizing that 'the only thing I know is that I don't know anything.'" In regard to this writer, I imagine some of you have been confident of that for quite some time.

1 Comment
Leave a Response