A Grand Time Was Had by All
By Paul S. Williams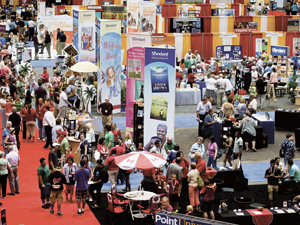 I believe the North American Christian Convention is back.
Last year I wrote a long e-mail to Ben Cachiaras thanking him for a wonderful 2010 convention. I wondered if the momentum could be maintained. This past July I had my answer. Not only was it maintained, it was accelerated. Dudley Rutherford and his staff worked hard for a convention that truly was unleashed.
I could tell the difference in the exhibit hall the first afternoon. There was a spirit of anticipation and excitement reminiscent of years gone by. Friends from churches large and small stopped by the Orchard Group booth to chat. Everyone smiled and looked hopeful. They even dressed nicer. Seriously, they did. I came with jeans and sneakers, but traded them in for dress pants and loafers. There was a sense that good work was going to be done all the way through Friday morning, and it was.
For me the convention is still "The Connecting Place." I counted 15 meetings I participated in during four short days. Most were meetings I would have flown to Cincinnati for, even if they were the only event on my calendar. The NACC still brings everyone to one place. For a parachurch administrator that is a good thing.
Rick Rusaw is president of the 2012 convention, which will be held at the Marriott World Center in Orlando, Florida, July 10-13. It will mark the first time the entire NACC will be conducted in a single facility, from sessions to meals to sleeping rooms. Since it is in Orlando in July, I am thinking an indoor convention will be a good thing.
I told Rick I thought the convention would be smaller next year and he shot me a look that suggested the imminent arrival of daggers. He said, "Now why would you think that? It's going to be the biggest NACC in decades." I hope he is right. I've seen the program and it looks very good. And Rick does have a way of pulling a rabbit out of a hat.
I have been attending the North American since I was 8 years old. That first year my parents let me buy a Bible storybook from the Standard Publishing table. I kept it next to my bed for years.
I hope I can buy a Bible storybook from the Standard Publishing table at the 2016 NACC, when my oldest granddaughter will be 8 years old. After all, good things should be passed from one generation to the next.
And so it goes.

1 Comment
Leave a Response