Five Minutes on Preaching
By Paul S. Williams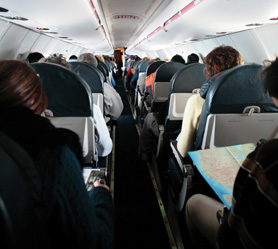 Every other year I teach a preaching course in New York City for Ozark Christian College. On a flight to Colorado after my last class, a seatmate who was also a preacher asked for the five-minute version of the course. I was happy to oblige.
First, whenever possible I preach stories. If they were good enough for Jesus, they are good enough for me. Stories find their own level. I once preached a gospel narrative at Emmanuel School of Religion. One of the professors said, "Thanks for the new perspective on that story." He proceeded to expound on his new insight. I had no idea what he was talking about. Like I said, stories find their own level.
Second, I often use poetic license with biblical stories. Most people have listened to the stories of the Bible for so long they no longer hear them. I invite a new perspective: "This guy was headed down the mountain from Jerusalem to Jericho and he got to this place where there were nothing but burned-out cars and stray engine blocks and he was mugged and left for dead. A priest came by but he was pressed for time, and a Levite came by, but he had a budget to balance, and the poor guy by the side of the road was not having a real good day.
"Then a Samaritan came by who understood something about pain and suffering the priest and Levite did not understand, and he chose to have compassion on the man. He bandaged his wounds, risking AIDS. He put him on his donkey, risking a lawsuit should the injured man fall off. And he paid for his medical care without government assistance. And Jesus said, 'Now that's my idea of a neighbor.'"
Third, whenever I preach I always try to speak a word on behalf of the audience. Peggy Noonan said Ronald Reagan had a knack for speaking words his audience would have spoken if only they could have found them. She made that observation after seven astronauts died in the space shuttle Challenger disaster, when Reagan said, "They've slipped the surly bonds of earth to touch the face of God."
Fourth, I keep it short. The average Lutheran message is 20 minutes. Methodists preach 22 minutes and Pentecostals preach 40 minutes. I grew up preaching in New York, where the average Catholic sermon is 8 minutes long. I usually preach from 21 to 23 minutes. Since more editing is involved, it does take longer to prepare a shorter sermon, but no one complains about a short sermon—ever.
Finally, I memorize my sermons. During the memorization process, I forget things. Usually there is a reason. The things I forget are extraneous to the message. So I leave them out as I draw a thread through the message and pull it tight.
There are few things as satisfying as preaching. I consider it a privilege to have been doing it for almost 40 years, and I look forward to preaching for many years to come.

5 Comments
Leave a Response