End Tables and Fir Twigs
By Paul S. Williams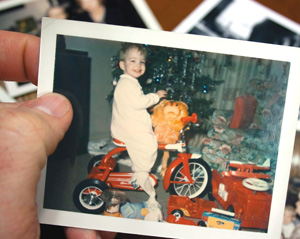 The first shopping center on the west side of Akron, Ohio, opened in September of 1955, the same week my father began his ministry at the Noble Avenue Church of Christ. The strip mall was anchored by a J.C. Penney department store. With surplus parking around its L-shaped walkways, the place was a suburban wonder.
During the Christmas season there was always a worker from the Salvation Army outside the jewelry store. We never put any money in the kettle because they did not teach people that baptism was by immersion and for salvation. I always felt sorry for the workers as they rung their little bells. I thought they might ring their bells all the way to Hell.
The Christmas I was in the second grade we had several snowstorms in early December. I made tracks with my galoshes as I walked into Penney's to buy a pop-bead necklace for my mother. I could not wait until we got to the Woolworth store and its long row of toys. It even had a spindly Santa Claus in the back, though I never sat on his bony legs to tell him which presents I wanted under the tree. I was desperate for a Roy Rogers ranch set, complete with a barn and stall for Trigger.
Those are my earliest memories of the commercial side of Christmas. I have a lot more recollections of church life around the Christmas season. I remember being one of the wise men in the children's pageant, primarily because I was tall for my age and it was assumed wise men were tall. I wore a blue towel on my head and a striped blue robe I rarely wore except when I was sick. I remember all the wonderful food we received from kind church members, especially the tins of cookies and peanut brittle. I fondly recall the Christmas cantatas, with twice as many people in the choir as usual.
Christmas began at home when we put up the tree and placed our Bibles on the end tables, opened to our favorite Christmas passages. I always chose the Matthew account. My brother chose Luke. We arranged a few fir twigs and pinecones around the perimeter of each Bible and marveled at our artistic creativity.
We loved the gifts we received, but we knew the real reason for Christmas. It was about a God who knew no other way to console those made in his image but to come and suffer among them. Christmas was a Christ who chose to become a helpless infant so we might know absolute love. Christmas was that wonderful reminder that no matter how cold the season or how difficult life becomes, in the end love wins.

Leave a Response