What About the Insolent?
By Paul S. Williams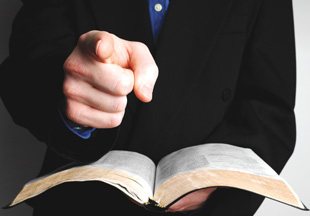 This past summer I listened to a sermon on homosexuality. The message was well researched. The preacher clearly stated his view that the practice of homosexuality is sin, though he spoke in a kind and loving way. Later that day I realized that the message was the third or fourth I've heard this year on homosexuality.
I do understand the church is to be prophetic. As my friend Rick says, we have been called to stand in the river of American culture and disrupt the flow. Christians have as much right to set the agenda of a democracy as any other group. We should be active in the public square. It is our right and responsibility. But I am puzzled that we usually confine our social commentary to just a few carefully chosen topics, like homosexuality or abortion.
In the same Romans passage in which Paul condemned immoral sexual relationships, he also condemned envy, murder, strife, deceit, and malice. He went on to condemn God-haters, the insolent, the arrogant, the boastful, the faithless, and those who are heartless and ruthless.
Now let me think, when was the last time I heard a sermon on the insolent? I'm not even sure I know what insolent means. And what about heartlessness? I know a number of church leaders who privately use extremely pejorative language when referencing homosexuals. So yeah, how about a sermon on heartlessness? That would speak to an observable need.
Or what about deceit? How often do we find deceit in the church? Christians seem to be very adept at Machiavellian tactics, subtly shading the truth for our own purposes. There is no shortage of manipulative jockeying within the church. When was the last time you heard a sermon on deceit?
Greed is one of the first sins mentioned in the book of Romans. I do not remember the last sermon I heard on greed. Have you studied what the Bible says about greed? I must confess that I have not studied the subject carefully, though it is mentioned hundreds of times in Scripture. I have far more extensively studied what the Bible says about homosexuality, though there are fewer passages on that topic.
Of course, we all know what greed is, so there is no need to write a sermon about it. We are quite confident we are not greedy. We would know if we were. So, we will stick to a handful of difficult topics, the ones currently in the news.
As for the insolent, I will leave them alone for now, at least until I find out what insolence is.

2 Comments
Leave a Response