The Peninsula Mentality
By Paul S. Williams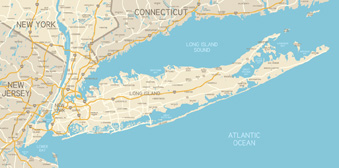 When he was teaching at Cincinnati Bible Seminary, Dr. Joe Ellis used to talk about "the peninsula mentality." He said over the course of history people who lived on peninsulas tended to be more self-referential than those who lived in closer proximity to others.
Ellis pointed out a few geographical regions in North America where the citizenry had a tendency to lean toward one extreme or the other. He said we Christian church leaders also have a tendency to function from a peninsula mentality. We live on our Restoration Movement "peninsula" and do not leave it very often.
I certainly had a difficult time when I moved from Kentucky to New York. Though Long Island is only 80 miles long and 10 miles wide, it is so insular it has its own accent. Seventy-two percent of Long Islanders are Roman Catholic. Another 16 percent are Jewish. That leaves 12 percent for everything else. It certainly makes one less inclined to fight with the Southern Baptists down the block.
I often become frustrated with Long Islanders. I want them to travel to somewhere besides Florida and see the great big world around them. They tend to behave like everything west of the Hudson River is a wasteland.
With the explosion of air travel, the arrival of the Internet, and the ubiquitous use of social media like Facebook and Twitter, the world is rapidly getting smaller. Regional accents are going by the wayside. It pleases me that I can still tell the difference between a Kentucky and a Virginia accent, but I wonder how much longer that will be true?
There is no New York accent in Manhattan anymore. That's because no one living in Manhattan is from New York. They all moved there from somewhere else. The same is true of Colorado, Arizona, Florida, and California. Just about everyone is from somewhere else.
As for me, I am glad I live in a self-referential place like Long Island. It is a constant reminder of just how cocky and confident we all can become when we choose to stay on peninsulas of our own making.
Of course, there is one great leveler that keeps Long Islanders from thinking too highly of themselves. The one constant contributing to humility is baseball. Most Long Islanders are New York Mets fans.
And so it goes.

Leave a Response