A Bit of a Situation Here
By Paul S. Williams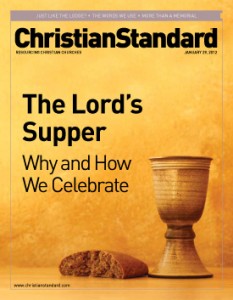 In its 154th year of existence The Atlantic passed a milestone. This year, for the first time ever, the magazine completed a quarter in which its digital editions earned more advertising dollars than its print publication. The Atlantic is one of only a few newspapers and magazines to have made this monumental achievement. The rest of us are still working on it.
With only a handful of interruptions, Christian Standard has been published every week since 1866. There were more than 100,000 subscribers when I first began reading the magazine shortly after graduating from college. Little did any of us know how much that would change with the coming of the digital revolution.
Nowadays I hear from readers from every corner of our nation. They read weekly and are excited to tell me so. The only problem is that if they are under, oh let's say 50, they are not reading a paper edition of Christian Standard. They are reading online at the christianstandard.com website.
We are thrilled so many people are reading Christian Standard online. The only problem is that as more and more readers move to the Internet, our print subscriptions are steadily declining. Since income and advertisements are based on print subscriptions, those online readers are not contributing to the bottom line. If we were a nonprofit, that might not be so bad. But we are not a nonprofit. We are a part of Standard Publishing, which is owned by a private equity firm in New York. None of us likes to see dwindling subscriptions. The folks in New York really do not like to see dwindling subscriptions, nor should they.
Mark Taylor and I, with the help of our contributing editors and Publishing Committee, continue to look for ways to keep this important enterprise growing. The truth is we need your help. One might think we need your subscriptions more than anything else. I am certainly not going to deny that we want more subscribers, but there is one thing we covet more than subscribers. We need your prayers.
Would you commit to praying with us as we move into the future? Would you pray that we continue to serve Christian churches and churches of Christ with a strong publication that meets the growing needs of our leaders? You continue to tell us you are pleased with our content. Now pray with us that we might join that content with a great distribution platform that, like The Atlantic, brings as much digital revenue as print revenue.
Over the next few months you will some changes in the print and digital editions of Christian Standard. We are working with the Standard Publishing staff to determine exactly what those changes will be. In the meantime, we will certainly appreciate your ongoing prayers.
And so it goes.

2 Comments
Leave a Response