A Narrow Focus or a Broad Base?
By Paul S. Williams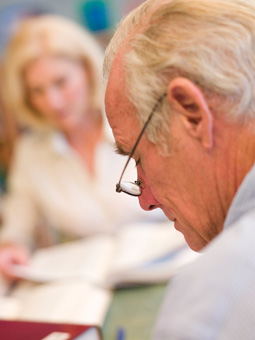 This spring I finished my doctor of ministry degree at the Seminary at Lincoln Christian University. My degree is in the specialty of pastor care. My major professor was Dr. Paul Boatman, a true gentleman.
Many of my friends have never been interested in furthering their formal education. Their bachelor's degrees have served them well, and they prefer to learn outside of an academic environment. I respect their decision but I do not recommend it.
When I study only the subjects I want to study, I tend to gain a lot of information about a very few things. For instance, I've read just about everything written on church planting and the DiSC test, a psychological testing tool we use at the Orchard Group. I know I have every book ever written about the New York Mets' unlikely march to the 1986 World Series championship! But those three subjects do not add up to a broad-based education.
Another problem with studying only what one wants to study is that we tend to avoid subjects we find difficult. At Lincoln I had to take a weeklong course on the spiritual disciplines. I am terrible at the spiritual disciplines. Through the course I learned most people are terrible at the spiritual disciplines. From J.K. Jones and Neil Windham, I found a new way to tap into the reservoir of my own spiritual possibility. I would not have done that on my own.
I enjoy books about Christ and culture, but I never seem to find time to read them. After a week with John Castelein and Bob Kurka, I was reading Lesslie Newbigin and becoming reacquainted with Richard Niebuhr. Since taking the class, I have read about 10 more titles on the subject. I probably would have read one, Howard Marshall's Beyond the Bible, without my class with Bob Lowery, but I know I would not have completed extensive studies on thorny issues like homosexuality without the discipline of the class.
There is a reason we do not negotiate the first 12 years of our education alone. We do not have the maturity and discipline to complete the work. To think we will get a broad-based education as adults without the discipline of academic pursuit is to place more trust in our innate intellectual curiosity than is deserved. We'd really like to study all of those subjects, but hey, we have a sermon or lesson to write before Sunday.
I do not plan to stop my formal education at 60. I am already considering a postdoctoral program in marriage and family therapy. Continuing one's education is good for body, mind, and soul. So, I'll see you in the classroom.
And so it goes.

3 Comments
Leave a Response