Happy 77th Birthday, AA!
By Paul S. Williams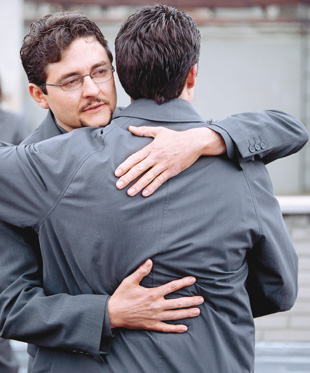 I have a friend who is attending the Founder's Day 77th anniversary of Alcoholics Anonymous. It is being held this month in Akron, Ohio, where AA was founded. Alcoholics Anonymous has changed his life in a way sheer willpower, psychotherapy, drugs, and even the church did not.
Alcoholics Anonymous was started by Bill Wilson in 1935. While it began as a more clearly Christian organization, through the years AA has become less Christian and more nonspecific in its spirituality. It's a sign of the times. Still, there are few organizations that have had the impact of Alcoholics Anonymous.
Besides the obvious difference in defining God "as we understood him," there are other areas in which the church and AA behave differently. In some areas AA is the healthier of the two. Alcoholics Anonymous treats addiction spiritually and as an illness. The church has historically treated addiction as moral failure, equating it to a lack of willpower. The success of AA in healing addicts and the relative failure of the church to do so would indicate that AA's perspective might be more scriptural than the church's perspective.
Alcoholics Anonymous does not advertise, own buildings, or employ staff. It does not have to do those things. If it works, people will come. Alcoholics are searching for love and spirituality. They have just been looking in all the wrong places. AA helps turn that around.
I wonder how God feels about AA. The church has often failed where Bill and his friends have succeeded. In fact, the success is so great that the church has copied it. Celebrate Recovery is a marvelous program that operates in thousands of churches, giving "A Higher Power" a clear name.
Throughout history God has often worked outside the church to bring about change. Perhaps God has used Alcoholics Anonymous and its sister organization, Al-Anon, as a way to wake up the church, to help us focus on this world. We give so much attention to getting souls to Heaven that we sometimes forget the work we are called to do here on earth. AA calls it recovery. We call it discipleship.
My friend has read The Big Book that Bill Wilson and Dr. Bob Smith completed in 1939. He is convinced AA is losing its way with its lack of acknowledgement of its Christian roots. Still, he admits that even in its current watered-down version, Alcoholics Anonymous saved his life. And for that, he is going to Akron, Ohio, to celebrate.

4 Comments
Leave a Response