Interview with Kent Paris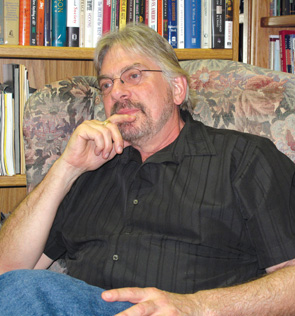 By Paul Boatman
Kent Paris, author of Means of Grace: A Primer for the Understanding and Care of Souls Affected by Homosexuality, is a Christian counselor in Champaign, Illinois, specializing in gender confusion issues.
Can you summarize how your unique ministry calling developed?
I didn't seek it out. It was not how I envisioned my life or vocation. As a new Christian in the 1970s, I was working with a street ministry. I attended a conference of the newly formed organization Exodus, attended by about 100 people who had come out of the gay life. Having struggled with homosexuality growing up, I was interested in what they were doing. I gained new friends in ministry and kept in touch.
But it became more personally compelling . . .
In 1980, nine years after my conversion, and five years into my marriage to Sherri, a guy showed up at our ministry who was struggling with homosexuality. Then another . . . and another. I found that my background enabled me to identify and minister to them. Area ministers found out we were reaching out to "gay" guys and the floodgates opened.
By 1983, easily half of those we were ministering to were dealing with this issue. I was appointed to a four-year term on the national board of directors of Exodus in 1983 and began teaching at their conferences. So, my "calling" snuck up and overtook me. It became obvious.
How have people reacted to your book, Means of Grace?
I have received very positive feedback regarding the book and its helpfulness. I wish we could market it on a broader scale. Some have expressed a desire to see me expand the book. I'm considering that.
Many Christians struggle with either of the common positions: "Homosexuals are born that way" or "Homosexuals are gay by choice." Do you have a few words on that issue?
I speak to this more thoroughly in my book, but contrary to a pervasive misconception, there simply has been no viable, replicable research to substantiate a genetic causation for homosexuality. And even if there were, this in no way would validate homosexuality as "normal" or "natural." God's Word alone makes this judgment.
Where does grace fit in?
There is much we experience as a fallen race impacted by the disintegrating power of sin. Now, there is just cause for great compassion here. For those of us who experienced same-gender attractions quite early in life, it must be understood that unless there has been sexual molestation, the same-gender attractions were not sexual in nature. Rather, they reflected legitimate needs, developmental issues. The attractions are not present by choice. At puberty, these attractions may become eroticized, developing deeper confusion. In hindsight, people often misinterpret those early same-gender attractions as proof of being "born that way," because they were present so early in their lives.
In my view, the turning point arrives when a person decides what he or she believes about the nature of the attractions. It's understandable why many come to a faulty conclusion they are "gay," and adopt a sexualized identity. This leads to choices in behavior. That's what I did, but when I committed my life to Christ I came to see I had another choice—I could take a different path as a disciple of Christ.
We've heard some troubling reports about the leadership of the Exodus organization.
I'm still trying to sort that out. I have had concerns for several years—as have many of my colleagues who have strong histories with Exodus. Recently, Alan Chambers, the current Exodus president, accepted an invitation to attend a closed-door session of the Gay Christian Network at its 2012 conference in Orlando. (Ninety percent of GCN members are sexually active "gay Christians.") The panel included three former Exodus ministry directors who have renounced Exodus.
Alan made shocking statements like, "You are my Christian brothers and sisters . . . we will all be in Heaven together." Coupled with his other statements, this represents a radical departure from biblical orthodoxy and from the teaching of Exodus for its first 25 years. Historically, Exodus called men and women to repentance, obedience to Christ, and sexual purity—not the muddy theology and, "cheap grace" the current leaders are espousing.
I'm afraid Exodus is straying from its mission and calling.
Where can we learn more about this?
There is a two and one-half hour video of that session posted on YouTube (www.youtube.com/watch?v=TXgA7_QRvhg). This is typical of Alan's recent Exodus leadership. I'm in close correspondence with many past and present Exodus directors. Exodus has always emphasized God's love for the broken and wounded, but this failure to hold fast to God's standard of morality, sexuality, and righteousness for all believers leaves us profoundly disturbed.
What price have you paid in pursuit of your ministry?
A few gray hairs? Admittedly, it is an intense arena of ministry in this increasingly pro-gay culture, and besieged with considerable opposition. Throughout the years I've received death threats and other unpleasant backlash. Plants from the gay community have posed as counselees. Derogatory and misquoted articles have appeared on the Internet. I was sued, along with Lincoln Christian College, by a former student backed by the Gay Rights Advocates of San Francisco in the 1980s.
We never have had a large base of missions support, and could certainly use more to enable us to expand our staff and services. The work has always been rewarding, but money has been very tight.
What future do you see for ministry in the area of gender confusion?
Personally, I am offering more speaking dates in larger venues—seminars, teaching, consultation—to help churches minister to their people who may be struggling with same-gender confusion. I give my testimony, present workshops, and speak on such issues as sexual purity, homosexuality, pornography, and sexual abuse.
There is a pressing need for ministry in the area of gender identity. However, unless the momentum of the gay agenda can be countered spiritually and politically, this kind of ministry will be condemned by the field of psychology and likely subject to lawsuits. Efforts are underway to outlaw "reparative therapy." Some of us may need to locate our ministry within the confines of a church building to protect and preserve our right to provide biblical, pastoral counseling to persons who want it.
In Britain, ministers are serving jail terms for the "hate crime" of teaching that homosexual behavior is sin. In America, the stunning success of the gay agenda in America since 1970 should leave us all sobered, prayerful, and determined. It may cost us something to hold fast to God's truth for the sake of bearing witness to the kingdom and ministering to people who are caught in this bondage.
Paul Boatman is chaplain of Safe Haven Hospice in Lincoln, Illinois.

3 Comments
Leave a Response