Leaders with Servant Hearts
By Paul S. Williams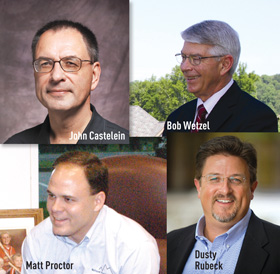 The January 11 New York Times published a summary of a study that followed students from elementary school to adulthood. The report concluded that having a good teacher in the fourth grade increased a student's likelihood of going to college by 1.25 percent. A good fourth-grade teacher also lowered a girl's chances of becoming a teenage mother by an equal 1.25 percent.
Against that incredible finding, I do not understand how we became a nation so prejudiced against public school teachers. How can we denigrate a profession in which a nine-month concentration of influence can so significantly change the course of a life?
When I was working with Christ In Youth in my 20s, two Christian college professors encouraged me to continue my education so I might consider teaching in their institutions. I was wonderfully encouraged by their suggestion. I enrolled in graduate school and began working on my first master's degree. In the intervening years, however, I moved from CIY to work as a preaching minister. I started hanging around a lot of fellow ministers who did not share my love of academic study. When I dared to admit I was considering a teaching career, they scoffed. "The real work is in the church!" they cried. "Bible college professors know little about life on the front lines."
It is now 30 years later, and as far as I am concerned, the verdict is clear. John Castelein might be the smartest guy I know. Eleanor Daniel is a legend. Bob Wetzel is both gentle and humble, one of the truly good guys. Tony Twist is a good friend with a tremendous love of the church and a brilliant mind. John Derry is a sharp administrator. Matt Proctor is one of the best preachers around. And Dusty Rubeck is as committed to excellence as anyone with whom I have ever worked.
All of these people are educators. They could take leadership positions in just about any church they like, but instead they choose to serve the church universal by educating others. They are confident, yet humble; accomplished, yet accessible. They are leaders with servant hearts.
My wife recently retired from decades of teaching, and is returning to school to earn her second master's degree. She would like to become a psychotherapist, another profession frowned on by many a preacher. I imagine she'll work with a fair number of people who cannot resist the urge to take shots at others in feeble attempts to shore up their own precarious egos.
And so it goes.

1 Comment
Leave a Response