A Mission, Not Just a Mission Trip
By Mark A. Taylor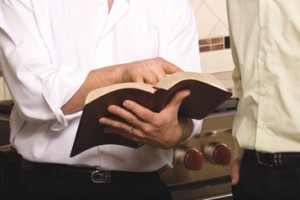 Maybe the best line in the panel interview article posted this week comes close to the end of it.
Luke Erickson, from Mountain Christian Church, in Joppa, Maryland, shared the question the church asks anyone interested in community service projects or mission trips overseas: "How are you engaged in your own neighborhood?"
It's a question born of genius. It prods the would-be servant to get out of himself and into the church's mission. For example, I may feel good about "sacrificing" a couple hours to work in a food pantry; I may think I've given a lot to spend my vacation painting walls in a Mexican orphanage. But what is my lifestyle? Am I serious, week-in and week-out, about making disciples for Christ?
As Ben Cachiaras, also from Mountain, said during our panel discussion, Is mine a "missional way of life?"
Or as Randy Gariss said, "I can preach it and teach it, but who's at my kitchen table?" He offered this insight that didn't make it into our article: "At College Heights Christian Church (Joplin, Missouri), we don't start any project without a strategy for how it will be relational in the end."
Becky Ahlberg's My Safe Harbor ministry in California expands on that principle: "We don't do any program that doesn't involve the people we're serving as servers themselves."
The approach described by our panelists is so much more strategic than just adding "externally focused" to a list of church activities. As Ahlberg said, "Our primary goal is to make disciples; it's not to feed people."
And the strategies they describe here are so much more effective than relegating evangelism to one staff member's job description or one department's responsibility.
Serving the community as the hands and feet of Christ is "not just another item to check off," Cachiaras pointed out. "Sometimes it's programs, and sometimes it's just having your neighbor for dinner."
While some churches have yet to get outside of their buildings and into their communities in Jesus' name, they appear to be in the minority. Much more common are reports of local churches remodeling school buildings, buying shoes for orphans, packing food for Haiti, sending construction crews for disaster relief, building playgrounds, or removing litter. The question we asked is, "How is this Christ's work more than the duty of the Red Cross or the National Guard or the government?"
The answers we received are compelling and convincing. They provide the framework for a model of disciple-building that could cause a revolution if pursued by every church visiting this website.

Leave a Response