Artists Contribute to Yearlong Bible Emphasis
By Jennifer Taylor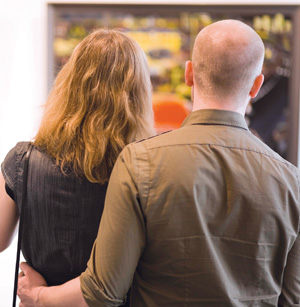 Harbor of Hope Christian Church (North Chelmsford, MA) began "Garden to City," a yearlong journey through the Bible, in January. The sermons at each weekend service in 2012 correspond to a weekly Bible reading plan, and a special blog reinforces the themes with articles, quotes, and videos.
Harbor of Hope's staff approached local artist Bradford Rusick with the idea of hosting an art exhibition to complement the "Garden to City" story; Rusick then connected with Amirah, a Boston nonprofit that is building a safe house to provide whole-person care to women who have come out of human trafficking.
The result has been cooperation between storytellers, artists, and advocates. The Garden to City art exhibit opened April 28 at the Harbor of Hope building with pieces by artists from across the Northeast, including Ric Haynes, whose work has been displayed by the Museum of Modern Art, The Guggenheim Museum, and The Getty Foundation.
"'Garden to City' is about the journey of life, and it's about restoration," said Meg Lynch, a community volunteer coordinator with Amirah. "It's a story of restoring broken lives and healing wounds in the world. The work of Amirah is to bring that very story into the lives of women who are fighting to recover their dignity."
Rusick said he hoped the artwork would inspire viewers to consider their own journeys and to see the people around them with compassion. The show provided viewers with the opportunity to learn more about Amirah and donate their time, gifts, or money to help the cause.

Leave a Response