DCC Offers Scholarships to Family after Father Dies
By Jennifer Taylor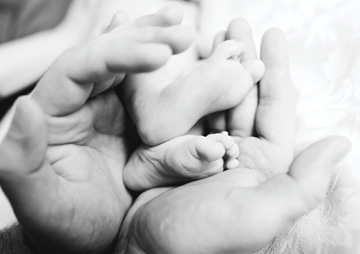 Diane Aulger was only two weeks from her due date, but when she realized her husband, Mark, had only a few days to live, she decided to induce labor so Mark could meet his new daughter. Five days after baby Savannah was born, Mark died from pulmonary fibrosis.
Diane and her five children live a few miles north of Dallas, TX, and Dallas Christian College President Dusty Rubeck knew he wanted to help. On April 30, during an episode of the TV show The Doctors featuring the Aulgers' story, Rubeck made a special announcement on behalf of DCC.
"My dad passed away from cancer last year. . . . I got to be with him in his very last moments, so when I read your story it touched my heart deeply," he said. "If I were your dad I would have been concerned about your future . . . so we're going to do something about that. Dallas Christian College is announcing the Mark Aulger Memorial Scholarship. If you choose to come to Dallas Christian College, we have a full-tuition scholarship for a bachelor's degree for every one of you. Please know that our hearts and prayers are with you and our hope is that this scholarship will create a great future for you and the children."
In addition to scholarships for each of the five kids, the school also gifted a sixth to Diane, and in a statement to Good Morning Texas she wrote, "It takes a huge load off my shoulders knowing that their educations will not suffer and their futures will be bright. I, too, have the opportunity to better myself with a bachelor's degree and I cannot wait to get started."
The Aulger children range in age from 1 month to 15 years old. They will receive the scholarships upon acceptance to DCC.
—Jennifer Taylor

Leave a Response