First One Place, Then the Other
By Paul S. Williams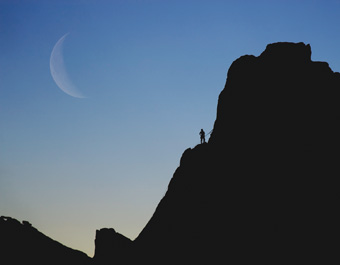 Cathy and I split our time between New York and Colorado. My work is still in New York. Cathy's has been in Colorado. We have grandchildren in both places. We are not quite bicoastal, but it is enjoyable moving back and forth across two-thirds of a continent. The differences between the two places are significant.
The beauty of Colorado is breathtaking. The speed of New York is breathtaking. The people of Colorado are friendly. The people of New York are busy. The drivers in Colorado are awful. The taxis in New York are awful. We anticipated correctly a lot of the changes we would find in Colorado. We have slowed down a good bit, learned to relax a little (except when those crazy Colorado drivers refuse to merge), and reacquainted ourselves with the rhythms of nature.
In New York I never know when the moon is full. Even on the darkest of nights there is still enough ambient light to run on a seaside path. With the tall buildings and never-ending soft glow, you just do not notice the moon. In Colorado the end of the lunar cycle is dark as pitch. I won't even step onto my patio without turning on a light. On the other hand, with a full moon you can hike a Colorado fourteener without as much as a flashlight.
In Colorado, every August I eagerly await the Perseid meteor shower. We sit on our back patio and look out toward Long's Peak. A meteor comes along every 30 seconds or so. I do not remember ever seeing a meteor in New York—not once in 38 years.
In the wintertime Cathy and I watch storms form on the western slope of the Continental Divide. They tiptoe over the mountaintops but retreat before reaching the foothills. It is beautiful to watch a storm when you know you are not going to have to shovel it.
On Long Island the prettiest sunsets are in the summertime when the sun sets to the northwest, right over New York City. It slips through the smoggy haze that almost always hovers over the city, bathing the waters of the Great South Bay in brilliant orange light. It is beautiful to be sure, but hardly natural.
I have always loved the mountains. When I moved to New York, my friends asked why I was leaving "God's country" for the Empire State. I told them the most beautiful part of God's creation is not velvety green mountains, dazzling as they are. The most beautiful part of God's creation is people, and I was going where the people were.
I still like splitting my time between New York and Colorado. I sure am glad I can see the phases of the moon again.

Leave a Response