Interview with Alicia Ellis Crumpton
By Paul Boatman
Alicia Crumpton has made a midlife career change to lead a unique academic program with a global impact.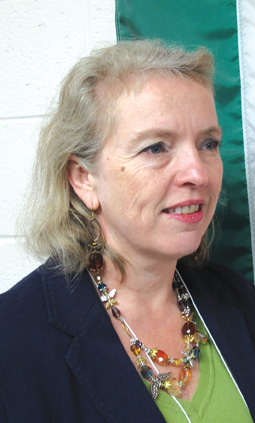 Tell us about your ministry.
I've been doing ministry all my adult life. I was a consultant—ministering by listening, assessing, and helping people set and move toward goals. For many years I did that with businesses, from "mom and pop" operations to corporations and city governments. I think I am doing the same thing, but now my clients are international Christian leaders who are doctoral students.
You just hinted at a major leap.
Oh, it is different, but I think God is just using my skills in a different context. It is still my ministry, using the gifts God has given me to help people fulfill godly calling.
Say a bit more about this new ministry.
The Center for Global Studies (CGS) is exciting. Eight schools are working together to offer an accredited PhD program in leadership studies. We have never done anything like this before. It is offering courses using the combined academic resources of these schools, the latest educational technology, and the contacts that we have around the world to enable God's kingdom to have well-equipped leadership. I love that idea.
Slow up a minute. A professional corporate consultant is leading a creative and cooperative Christian higher education program with a terminal degree. How did you get from one to the other?
You don't have time for the whole story, but here's a short summary. I have always tried to go where I think God is leading me. That's why I went to Bible college at Lincoln. That's why the interdisciplinary studies program opened my eyes to service opportunities outside the church, though I was still clueless when I graduated. But Dr. Gary Weedman, who was my professor back then, saw my heart and encouraged me to keep looking for God's opportunities.
So you suddenly became a consultant?
Ha! Almost! First I sold pianos and organs, even though I did not play an instrument. I just tried to match people's needs with the resources available. That led to becoming a quality assurance person for a small company supplying the nuclear power industry. Dealing with clients, regulatory agencies, and codes taught me about negotiating among diverse priorities. In a couple more steps I was consulting on a merger between two nuclear power consulting companies, and ultimately started my own consulting business, still believing that Jeremiah 29:11 can speak to my life, "I know the plans I have for you."
I love consulting. It lets me travel all over, meet new people, and use my brain and values to help them figure out solutions to their problems. Then I move on to another challenge. And by that time I had met my husband and he encouraged me in all this.
But you were still in process.
Well, in 2004, as a church missions chairman, I had an opportunity to go to Haus Edelweiss, TCM's ministry center near Vienna, Austria. They have a great ministry, and I ran into Dr. Weedman again. He listened to my story and challenged me to go to Gonzaga University for a PhD in leadership. I looked into their program and it fit my calling, so that's what I did. It was just what I needed, and my consulting business was giving me wonderful doors for ministry.
Oh, one other thing—in 2005 I joined the International Leadership Association (ILA). I went to a conference in Amsterdam and looked around: Where are the Christian voices at this table? It just seemed wrong that we were not participating at this level. I asked around and found a few Christians who joined me at each annual conference to pray that God would raise up Christian leaders throughout the world.
And . . .
In 2008 Dr. Weedman called, telling me he wanted me to teach a course in the new nonprofit business program at Johnson University. (I was also teaching at Lincoln Christian University.) As an aside, he mentioned that a group of Bible college leaders were developing this plan for a leadership doctorate. I said I would be interested in helping with that project. I think God was showing me a mystery.
Mystery?
Some people think life is a maze, with lots of dead ends. I see God walking us through a labyrinth—many unexpected twists and turns, but they keep getting us closer to where he wants us to be.
That informs your personal mission?
Indeed! Whatever I do I want to find God's leading and do that job to the glory of God.
Back to CGS . . .
Well, in 2010 the CGS was formed. I started meeting with the board of Christian university representatives and I was stunned. They wanted to do exactly what my ILA friends and I had been praying about. Further, I was asked to be interim director for the program and its design related to the proposal to the regional accrediting association (Southern Association of Colleges and Schools). In a whirlwind, we were getting that done, and I was asked to be the program director. That was scary!
Your fear?
For 28 years I thought I knew where God was leading me, but I never thought I would be an academic. Yet my heart ached for a community of scholars committed to Christian leadership. When I discussed it with my husband, he just smiled, "In 24 years of marriage, you've never backed away from a challenge if you thought God was in it. Why would this be different?" So here I am, and CGS is my ministry.
Summarize the uniqueness of CGS.
In our part of the Stone-Campbell heritage in the U.S. there are eight institutions that have graduate programs: Cincinnati Christian University, Emmanuel Christian Seminary, Hope International University, Johnson University, Kentucky Christian University, Lincoln Christian University, Milligan College, and TCM International. Rather than compete, they are applying Restoration Movement unity principles to jointly offer an online PhD in leadership studies, focused primarily on those serving in international contexts and in cross-cultural ministry. While the daily management and accreditation has been delegated to Johnson, it is a united effort to produce world-changing leaders. How cool is that?
Where will this go in the next five years?
Oh, I have my dreams, and plans, but I really believe God will surprise us again and again as he leads us through the labyrinth.
Paul Boatman is chaplain of Safe Haven Hospice in Lincoln, Illinois.

1 Comment
Leave a Response