Church Outreach Extends to Self-Service Laundries
By Jennifer Taylor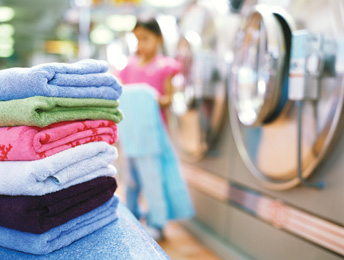 Once a month, volunteers from Crossroads Christian Church (Lexington, KY) serve others. But instead of washing feet, they're washing clothes.
Brent Barger, outward focus lead pastor at the church, started Crossroads' "Laundry Love" outreach after successfully implementing it at a church plant in northern Ohio.
"It's simple," he says. "We visit a local self-service laundry on a Saturday morning and do people's laundry for free."
Each volunteer has a specific assignment, from welcoming customers to keeping track of each person's laundry to roaming the room with rolls of quarters. They don't load laundry into the machines—most of the customers prefer to do it themselves—but do offer complimentary detergent and help fold the completed loads.
"There are no strings attached," Barger says. "We don't bring literature about the church. It's just a small way to extend love to people."
Some months the group adds inflatables for the kids or offers a free cookout.
"Laundromats aren't usually enjoyable places, so we try to add some fun," he says. "The best part is building relationships with the customers over time. I love it when we have 'regulars' who become friends."
Learn more about the Laundry Love program at www.just4one.org/laundrylove.html.
—Jennifer Taylor

Leave a Response