Introducing Standard Lesson Resources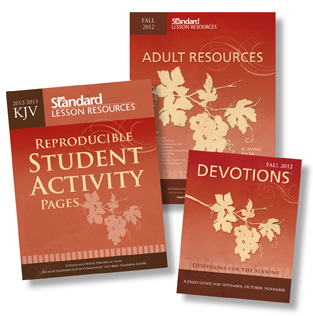 By Jon Underwood
This year marks 60 years of publishing the Standard Lesson Commentary. While that sounds impressive, it barely scratches the surface of Standard Publishing's tradition of publishing Sunday school resources. The Adult Bible Class is in its 137th year of publication, and Bible Teacher and Leader is in its 114th. Since the beginning of the Uniform Series in 1872, Standard Publishing has been involved. Our founder, Isaac Errett, served on the Lesson Committee from 1884 until his death in 1888.
Standard Publishing has a proud history, but it's not living in the past. This year we are introducing a new brand: Standard Lesson Resources. This new brand provides a wealth of helps to supplement the teaching of the lessons in the Standard Lesson Commentary or Standard Lesson Quarterly products.
Some of these helps are printed and may be purchased, such as the Adult Resources packet or Devotions. Others are available free online, such as In the World and the Reproducible Student Activity Pages. And then there are a few that can be downloaded for a small price, such as the PowerPoint presentations and the quarterly map or chart.
More Than a Teacher's Book
Thousands of Bible teachers use these lessons each week. While the teacher's book provides solid verse-by-verse exposition, discussion questions, and learning activities, today's learners are visual; they need to see something to supplement and reinforce the Scripture truths. The Adult Resources packet provides this. Twelve posters illustrate the lessons. There is one for nearly every lesson, with one or two that illustrate the entire quarter. These include maps, charts, photography, calligraphy, and more. Many of these posters will be useful any time—not just as an illustration for a particular lesson. They inspire and motivate because they are based on the Scripture text, and that is timely no matter what lesson is being studied.
The packet also has a CD that includes all the same images as are on the posters. This makes them useful for classrooms that have no place to hang printed posters. The CD also contains a PowerPoint presentation for every lesson. These presentations assist with lecture, discussion, and even activities. Illustrated with the posters and other images, these presentations have tremendous visual appeal. (These same presentations can be downloaded one-at-a-time from standardlesson.com, but getting them in the Adult Resources packet provides much more at a lower price!)
Enhancements for Every Lesson
Every lesson in the Standard Lesson Commentary and Standard Lesson Quarterly is enhanced by a weekly Bible reading plan. Teachers and students who want to maximize the benefit of those readings will find Devotions to be a perfect supplement. Printed quarterly, these daily devotional thoughts build on the Home Daily Bible Readings with a meditation, a memory verse, a worship song suggestion, and a prayer thought. Devotions will help prepare both mind and heart for the upcoming Sunday's lesson.
Teachers who use the Internet will find even more resources. Every week a new feature is posted to a page called In the World. This feature adds timeliness to lessons that are written months in advance of their use. Drawing from a recent news story, In the World prompts a discussion of some current issue and uses it to introduce or illustrate the lesson theme.
Also online are the reproducible student activity pages referenced in the "Involvement Learning" page of each lesson. These pages are free and can be downloaded a quarter at a time. They include two—or occasionally three—activities to go along with the activities in the teacher book. Download, print, and copy these, one for each student.
Or, if you prefer not to download, these pages are now available in print. Just released, the KJV and NIV Reproducible Student Activity Pages can be purchased to supplement the lessons for 12 months beginning in September.
Most Standard Lesson Resources are dated products to assist in teaching the weekly lessons. But one brand-new product will be found useful for years. It's The Essential Book of Teacher Tips. This book draws from the Standard Lesson Commentary's "Teacher Tips" feature, as well as other sources, to provide tips for teaching lessons in a variety of settings. Fifty-two articles provide at least 150 separate tips for teaching lessons from virtually any book of the Bible and on a variety of topics. Check out the Scripture Index and Topical Index to find hints for teaching on the text or theme you want.
Standard Lesson Resources will add depth, variety, visual appeal, and much more to your lessons. Check them out at standardlesson.com. You'll find the same quality that has made the Standard Lesson Commentary a favorite for 60 years reflected here in new and exciting ways!
Jonathan Underwood is senior editor, Standard Lesson Commentary. Learn more about these products at www.StandardPub.com or at your Christian retailer.

Leave a Response