Still His and Deeply Good
By Paul S. Williams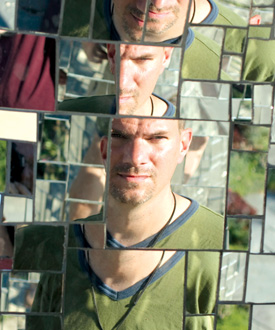 Many of the newly discovered truths of physics have something in common with the ancient truths of Scripture. Light is both a particle and a wave. Man is both finite and infinite. Jesus is both divine and human. Both Scripture and physics reveal that much truth is paradox.
G.K. Chesterton has an explanation for that phenomenon. He says paradox is simply truth standing on its head to get our attention. We prefer dual thinking—right/wrong, in/out, good/bad. Most of life is more complicated than that.
There is one paradoxical truth that is difficult for me to grasp. I am both deeply flawed and deeply good. I have little difficulty identifying my flaws. To focus on one's flaws, however, is actually a kind of narcissism. I become fixated with my own behavior.
Too often I see Christianity as a contest in which the one with the most willpower wins. Yet everyone knows it is easier to strengthen one's natural gifts than to correct one's natural weaknesses. When all I see are my flaws, I focus too much attention on the area in which I am likely to see little return on my investment. I was created in God's image. When I sin, I do not destroy that image. I do not make it unrecognizable. I just make it more difficult to identify, as though I am looking through a glass darkly.
The best way I can deal with my flaws is to accept them and move on. That is what Peter did. Imagine how awful he felt in Matthew 17 when God spoke up and told him to be quiet. I would have sunk into oblivion for the rest of my days. Not Peter. He picked himself up and moved on.
He also continued to sin, rather loudly. He denied Jesus before the crucifixion. He had to have a divine movie screen drop in front of his eyes before he would preach to the Gentiles. Yet he was chosen by God to preach the sermon that would launch the church.
Peter could embrace paradox. He accepted that he was deeply good and deeply flawed, all in the same package. He comprehended that loving his enemies included loving the parts of himself he did not like.
Unfortunately, I believe it is up to me to purge myself of my own flaws. God has a better plan. He accepts me in my weaknesses and suggests I do the same. Then, like Aslan removed the scales from Eustace, the boy-turned-dragon in The Chronicles of Narnia, I can leave it to God to remove the scales of my own making. Freed from the burden of fixing myself, I can accept the paradoxical truth that God wants to accept me and change me all at the same time.
To move ahead, I must accept that truth. No matter how flawed I am, I am still God's, and I am still deeply good.

3 Comments
Leave a Response