Five Memories—Each a Milestone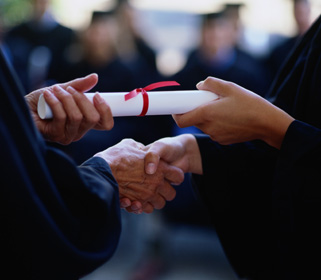 By Paul S. Williams
I experienced my fifth graduation this past spring. Each has been memorable. At my high school graduation, my cousin Mary and I each received three "proficiency" awards. I received awards in English, speech, and history. Mary's were in music, drama, and social studies. Neither of us received a proficiency award in science or math—still wouldn't today.
At my college graduation, I discovered the school had calculated my grade point average inaccurately. I actually finished a couple points higher than announced. I still graduated with honors, so complaining would have been in poor form.
My wife took a picture of me receiving my first master's degree in 1984. I look like I was 12. On the day I received my second master's degree, I arrived late because I had been in meetings with the senior administration. The zipper on my robe was broken, so it flapped in the wind as I walked across the platform.
My last graduation was this past May at Lincoln Christian University. The four Doctor of Ministry candidates were the last of the day to receive their diplomas. I received my hood from Dr. Gary Hall, who recently retired as professor of Old Testament at the Seminary. I reminded Gary we had done this before. He replied we were both a lot younger then.
Entire years can go by that you do not remember. But there are a few special days you never forget—like when you got married, or when your children were born, or who gave you your hood in May 1984 and again in May 2012. You remember what you value.
LeRoy Lawson spoke for both the 1984 and 2012 graduations. He never seems to age. As you might expect, he did a great job both times. I introduced him to Casey Tygrett, one of my fellow graduates. I told Roy that with guys like Casey around, I don't worry much about the future of our churches.
We mark our lives by the milestones we value. I do not remember what I wore at each graduation ceremony, or the color of each hood, or the songs that were sung. I remember the people—like Gary Hall, a gentle man of great intelligence and high character, and LeRoy Lawson, the erudite mentor for so many of us, and Casey Tygrett, my brilliant ministry colleague.
The people God brings into our lives make us who we are. When we are fortunate, some cycle through time and again, allowing us to receive the wisdom they have accumulated through the years.
This most recent graduation will likely be my last, except for the final graduation that comes complete with a heavenly choir and all. Even then, while the music will be nice, it will be the people who make it memorable.

Leave a Response