Shakespeare, Steve, Science, and Scripture
By LeRoy Lawson
Shakespeare: The World as Stage
Bill Bryson
New York: HarperCollins, 2007 (Audible.com version) 
Steve Jobs
Walter Isaacson
New York: Simon and Schuster, 2011
The Language of Science and Faith:
Straight Answers to Genuine Questions
Karl W. Giberson and Francis S. Collins
Downers Grove: InterVarsity Press, 2011
It's been a long time since I had the fun of introducing high school and college students to a lifelong fascination of mine: William Shakespeare, beyond dispute the greatest poet in the English language and among the handful of greatest poets in the world.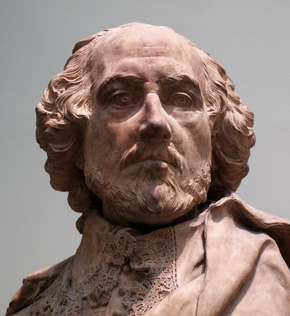 Well, maybe not beyond dispute. The truth is, everything about Shakespeare is disputed, including whether he was really Shakespeare. Maybe his plays were written by someone else who just borrowed his name (Francis Bacon? Christopher Marlowe? the Earl of Oxford? Queen Elizabeth?) Who knows for certain? (For the record, I'm pretty certain Shakespeare wrote Shakespeare, but that opinion doesn't get me published.)
And how should we spell his name? No one knows that for certain, either, including Shakespeare, who spelled it six different ways—and "Shakespeare" wasn't one of the variations.
And why didn't he publish most of his plays himself? If it hadn't been for his friends John Heminges and Henry Condell, who labored "heroically" to bring out the First Folio, most of the plays would have been lost forever. Even with their work, we remain uncertain exactly how many plays the man wrote, the order of their writing, and how much the texts we now have correspond to what Shakespeare actually penned.
In fact, as Bill Bryson's Shakespeare: The World as Stage stresses again and again, we can know very, very little about the Bard of Avon. If you'd like to get a little better acquainted with this elusive giant, though, I strongly recommend this modest book as the place to start. It's not a hefty volume, but it's loaded with facts and, where the facts are few, heaped high with reasonable speculation.
It's also entertaining. Bryson does not know how to write a dull book. He also doesn't back away from controversial issues of authorship, of Shakespeare's sexuality, of whether it was even possible for a man born in such modest circumstances in Stratford to have gained—and then demonstrated—the vast learning so evident in the plays.
And for sheer exuberance and virtuosity of linguistic mastery, Shakespeare has no peer. Bryson will leave you—at least he left me—wanting to quit reading about and start reading in the plays and poems themselves.
"Think Different"
As an Apple aficionado (iPhone, iPad, MacBook, MacBook Air are always with me), it was incumbent upon me to snatch up Walter Isaacson's biography of Apple founder Steve Jobs as soon as it came available. Its publication followed Jobs's death by just a few days. He died on October 5, 2011; the book appeared on October 24.
It seems appropriate that one of America's best biographers (Albert Einstein, Benjamin Franklin) should write the definitive life story of one of America's greatest shapers of culture, the man who left a larger-than-life imprint on computer technology, the music industry (iTunes), the film industry (Pixar), and beyond.
What should we make of this college dropout who distinguished himself, in turn, as an unwashed hippie (before we had the word he had the behavior), a barefoot religious pilgrim, an acid-dropping druggie, a vegetarian whose heedless self-medicating probably led to a shortened lifespan, a brilliant hacker-turned-company-founder, an impossible CEO whose board fired him from the company he founded, and then had to welcome him back to rescue it, a legend even before death immortalized him?
For one thing, Steve Jobs was not a nice man. Given to tantrums and obscenities and occasional cruelty, he could demolish anyone in whom he sensed weakness—which was most of the human race. On the other hand, his obsessive perfectionism created some of the most elegant blends of beauty and functionality the world has seen. As I said, I like Apple! I also like Pixar.
Isaacson makes much of Jobs's famous "reality distortion field." In someone else it would be called stretching the truth, telling it like it isn't—lying. To get what he wanted Jobs would say what he wanted, true or otherwise. Much of the time his willfulness made it possible for him and his teams to do the nearly impossible. Other times it meant trouble, as when he insisted he knew what was best for his health.
We'll be reading Isaacson's Steve Jobs for years to come as we try to do justice to the man who rocked our world. It was Apple, after all, that urged us to "Think different."
Think about Science
In 2006 Francis Collins published The Language of God, an argument for believing in God. The audience for that book was the scientific community, and Collins made the case that it's not disgraceful for bona fide scientists to believe in God. In fact, many do. Now he and coauthor Karl W. Giberson turn in the other direction. The audience for The Language of Science and Faith is their fellow Christians, whom they hope to persuade that it's OK for a believer in God to believe in proven scientific facts as well.
The ongoing conflict of science and religion is rooted, at least partially, in our typically binary method of thinking. We almost automatically reduce issues to either/or; both/and seems somehow too demanding. So we are either for God and against evolution, for example, or for evolution and against God. We believe we can't have it any other way.
But we can, Collins and Giberson insist. And they have the credentials to make us listen. Dr. Collins headed up the Human Genome project to decode human DNA. He now presides at the National Institutes of Health. His colleague Dr. Giberson is a physicist who has spent much of his career at "the interface of science and religion." In this book, they say they are writing for "Christian readers who would like to have a position that is both biblically based and scientifically sound." Quite a goal.
Even though this is a popularly written volume, the authors don't back away from tough issues like these:
• How old are the earth and the universe, really?
• Can science and religion be friends?
• Can scientific discoveries and Scripture be reconciled?
• What is meant by "the image of God? And where did our image of that image come from?
• How do you explain the precarious (and precise) conditions that make life on this planet viable, when it would take such a tiny change in temperature or the tilt of the planet or the pull of gravity to wipe out all living things?
The final chapter retells the Genesis account of creation by weaving scriptural with scientific language. The result is compelling.
Collins and Giberson admit their arguments only point to, rather than prove, the existence of God. There is, after all, no proof that would be equally acceptable to both sides of this ongoing debate. Still, they insist there is reason to believe in a God who created and still "fine tunes" his creation.
The authors are critical of the intelligent design movement because of some of its unsubstantiated and unsubstantiable claims, but they do believe that intelligence designed the universe. Thus they can appeal here to Christians to be more open-minded regarding the claims of science, as Collins earlier appealed to his fellow scientists to be more open-minded regarding the claims of religion.
I wonder which audience they found harder to convince?
If you believe that all truth is God's truth, no matter who tells it, then you may enjoy spending a little time with these authors rethinking the claims of both the Bible and science. After all the shouting in this science/religion conflict, I appreciated the calm, respectful tone that characterizes The Language of Science and Faith.
LeRoy Lawson, a CHRISTIAN STANDARD contributing editor and Publishing Committee member, is professor of Christian ministries at Emmanuel Christian Seminary in Johnson City, Tennessee, and an international consultant with CMF International.

1 Comment
Leave a Response