To Know the Truth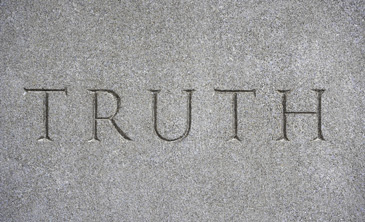 By Paul S. Williams
I keep track of the subjects about which I write. A few come up often. One of those is the subject of truth. There are few things of which I am confident in life. One is that the truth will set you free.
When I was a child, adults were always trying to shield me from truths I had already discerned. I was 12 or 13 when an accident involving a dump truck occurred right in front of our eyes. My mother turned around and covered my eyes with her hands. I had already seen what I had seen. Covering my eyes only invited the image to be seared more deeply into my memory. My mother's action had the opposite of its intended effect.
I have a therapist friend who says no matter how difficult it is to hear, the truth almost always has the capacity to heal. Scott Peck said adults grossly underestimate the ability of children to receive the truth. Children's powers of observation are keen. Like the accident on the highway, they have already seen what they have seen. If children are not told the truth, they are likely to make up a scenario worse than reality. Unfortunately, children will also see themselves as its primary cause. Parents fight behind closed doors and emerge as though everything's fine. The child knows better. The child assumes the fight was about him.
There may be a few occasions when it is best to wait to divulge the truth. I once asked my spiritual director if it was wise to tell a friend a difficult truth. She asked a very good question, "Are you doing it for her or for you?" I was doing it for me. She suggested I wait until it was no longer about me.
Which brings me to another point. There are times I would rather not know the truth. It may be healing and it may set me free, but it is likely to first make me uncomfortable. I dread those annual evaluations at the Orchard Group office. It does not matter how many kind things are said, it is the criticisms that cut to the bone. Even though they are carefully and objectively stated, I do not like them. Nobody wants to be criticized, even when we know the criticism is valid.
Still, I believe in the truth. I always search for it diligently and hold onto it lightly. For what I see as true may be little more than wishful thinking. More scrutiny may lead to a different conclusion. Nevertheless, if I am honest and steadfast, the truth will be made manifest—and yes, it will set me free.

Leave a Response