Church Subscriptions
Special Offer to New Subscribers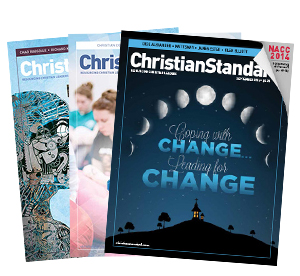 Engage Thought. Ignite Discussion. Stay Connected with opinions, leaders, and Christian churches worldwide. Christian Standard—a trusted voice for Christian churches for more than 14 decades.
Starting in September! Each new monthly edition of Christian Standard will offer you four times the content in just one streamlined edition. Get 64 pages every month featuring commentary, news, and help with issues your church is facing.
Subscribe now to Christian Standard at a 25% discount. It's like getting 3 issues FREE!
Fill out the form below to subscribe. If you are renewing your subscriptions, click here. If this is a gift subscription, click here.
Special Prices for New Subscribers
Annual Quantity
Normal Annual Price
for 12 Issues
Special Discounted Price
Your Savings
Multiple copies to one address
2-10
$24.99 per copy
(Ex. 2 copies = $49.98 per year)
$18.74 per copy
(Ex. 2 copies = $37.48 per year)
Up to $62.50!
11-20
$22.99 per copy
$17.24 per copy
Up to $115.00!
21-30
$21.99 per copy
$16.49 per copy
Up to $165.00!
31+
$20.99 per copy
$15.74 per copy
Unlimited Savings!
cforms contact form by delicious:days