I Have a Family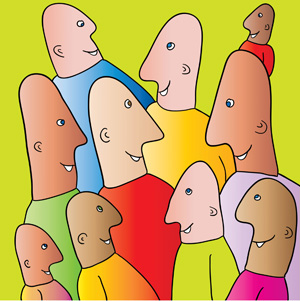 By Jim Tune
My father died just a few months ago. It hasn't been easy, and I feel the loss keenly. His death has prompted a desire to know more about my dad, his extended family, and his heritage. As a godly father and a devoted worker for Christ, he has also marked me with a legacy—one I intend to celebrate, embrace, and pass on. No one would expect any less.
The Family I Chose
From a faith perspective, I also have a family. I didn't join it as the result of a father's will or by accident. I chose the Restoration Movement. Believe me, better opportunities abounded with the denominations. I was raised Anglican and entered the marketplace as a young adult. When God seized me with a call to ministry, Christian friends and family urged me to attend the Baptist seminary. After all, there were only about seven Christian churches/churches of Christ in the province of Ontario. Their numbers were small, the Restoration Movement unheard of, and opportunities scarce.
My parents had begun attending a small local Christian church and I was intrigued by the simplicity of the church's approach. I learned that we didn't have to be sectarian or denominational, but that we could be "Christians only." I picked up a tract that claimed we could be neither Protestant, Catholic, nor Jew, but simply Christian. What an appealing idea!
Only later did I realize that somewhere along the way we Christian church folk allowed ourselves to fall into a sectarian approach of our own. Many of my peers rejected what was commonly referred to as "the Restoration plea." I understood their concerns. In fact, I agreed that the pendulum had swung too far toward an isolationist, "we're right and everyone else is wrong," point of view.
Unfortunately, the necessary corrective led to a pendulum swing that has embraced a new extreme—we have become forgetful and even disdainful regarding the beauty of our plea. I was once among the younger preachers and church planters who considered our movement irrelevant. It's an easy place to land, except it requires us to be unmindful of the shoulders upon which we stand—Christian pioneers who extended a plea to all Christians to unite around some very basic biblical ideals. As a recipient of that legacy, I will give the rest of my life to asserting that plea in a winsome way. I ask that my church planting peers listen, and not hold in disdain all that is not new.
Essentials of Our Plea
Please allow me to summarize the essentials of that plea: We are attempting to measure our faith and practice by the Bible only. Surely that is a noble ideal! Using the Bible alone as our creed and standard, we allow it to serve as the plumb line by which we straighten our crooked walls. We believe God gave his requirements for the church in the Scriptures, through the Holy Spirit. We want to do Bible things in Bible ways. We try to speak where the Bible speaks and be silent where the Bible is silent. We fail at this all the time, but nevertheless, we aspire to live this out.
The Restoration ideal presupposes that there is some norm for what God wants his church to be, a norm against which the church must always be measured. Thomas Campbell believed this norm could be found in the commands, patterns, and examples of the New Testament. He called the New Testament a "perfect constitution" for the worship, organization, and life of the church.
The Restoration Movement is not a church, nor should we confuse the plea itself with New Testament Christianity. When we do that, we make a sectarian ideology out of the Restoration plea that can be just as schismatic as any sectarian creed. It was never the intention of those who originated the "project to unite the Christians in all of the sects" to form another sect under another title.
For the record, I agree wholeheartedly that we are not the only Christians, but that we should aspire to be Christians only. I have no appetite for sectarianism.
That said, please take note: I do have a family and I do have a heritage among brothers and sisters who would collectively refer to themselves as independent Christian churches or, perhaps, churches of Christ. This family, like all others, has some distinct values, expressions, and quirks. Of course, this is also true of other families, tribes, and denominations. If you think the grass is greener in the mainline denominations, it probably means you've not yet had a close enough look to see the dysfunction in their families.
Celebration, Not Sectarianism
Sooner or later, most people grow interested in their family tree. It's a natural thing, and certainly does not imply that all other families are illegitimate. It is hardly a sectarian thing to celebrate one's own family. Sometimes in my extended family we have Christmas and Thanksgiving celebrations and family reunions. We generally don't invite the neighbors to those events, because it is a family gathering. In other words, there is nothing unusual at all about embracing and celebrating family ties, milestones, and traditions.
As for the things we hold as dear and true, such as our doctrinal stance—especially regarding baptism—I would defer to the wisdom of John Stott, who said, "Since Christian love is founded on Christian truth, we shall not increase the love that exists between us by diminishing the truth we hold in common."
John Carnell said, "If the church has been entrusted with a plan of salvation that is true on divine authority, then the relevance of Christianity is automatically established by the fact that it is true. To try to impose any other standard of relevance is manifestly wrong. What God says is final; even the slightest mishandling of Scripture is altogether out of order."
Unembarrassed Pragmatists
If Christian belief in Scripture is reduced to conjectures and uncertainties in the name of unity, then a broad toleration of almost all opinions is allowable. This is not what is meant by, "in opinions, liberty." It does not mean anything goes. Charles Spurgeon said, "I know of no such thing as paring off the rough edges of a doctrine."
But I see this everywhere in our churches today. There is a temptation to substitute technique for truth, therapy for theology, and management for ministry. In fact, my observation is this: We are in danger of becoming God's most unembarrassed pragmatists—much more enamored with church growth than invested with theological substance.
Martin Luther once wrote, "Softness and hardness are the two main faults from which all the mistakes of pastors come." I think many of our younger leaders today, in repudiating one danger (hardness), have fallen into the other—a sort of open-armed, undiscerning, ecumenical embrace.
We have never had a greater opportunity to present simple, basic New Testament Christianity in a world that's open to it. People all across the world are tired of denominationalism and division. They just want Christ. They just want the Bible. And that's exactly what we have to offer them. And that's good enough.
It's time to lose the inferiority complex. Our family will never be perfect. But we are family. Like my Dad's legacy, this family has also left its mark on me. I love the Restoration Movement. I am fascinated by the writings and lives of the early leaders, dismayed by the times we have lost our way, yet optimistic about our potential.
If our movement had a family coat of arms, I would want it to say: "No creed but Christ, no book but the Bible." And there's nothing to be ashamed of in that—it's who my family is.
Jim Tune is senior minister with Churchill Meadows Christian Church in Toronto, Canada. He is founder and director of Impact Canada, a national church planting organization, and serves as a contributing editor for CHRISTIAN STANDARD.

13 Comments
Leave a Response