By Jennifer Johnson
I was pleased when Chad Entinger e-mailed to tell me about Deaf Missions" Bible translation and the new app that makes it available to even more people. I would not have been pleased to report on another new English translation.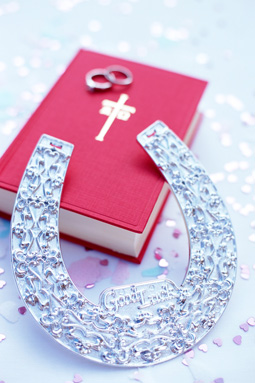 There are many good men and women working even now to bring us new translations of the ancient texts, but can we just admit we already have more than we need? An article on ReligionToday.com puts the number at 200, including the New International Version, New International Reader"s Version, New Revised Standard Version, King James Version, New King James Version, and New International Revised King James Standard Version.
OK, I made that last one up.
In addition to hundreds of translations, we can further customize our experience with options like the Precious Princess Bible (with embedded rhinestones!), the NIV Outdoorsman Bible (in a camouflage cover), the ESV Waterproof Bible (for that hot tub small group you were thinking of starting), and The Spiritual Warfare Bible ("with more than 250 one-sentence declarations and prayers that affirm your determination to confront Satan with the Holy Spirit"s help").
Publishers develop these variations (Holman has The Firefighter"s Bible, The Police Officer"s Bible, The Coast Guardsman"s Bible . . .) because they sell; several sources estimate annual""annual""Bible sales at $500 million, even though the average family already owns three copies. An optimist would say we should just be glad people are reading. But editorial writers aren"t paid to be optimistic, and I see it as one more indicator of American Christianity"s consumer mind-set. A simple study Bible in a reliable translation is not enough? We need the Personalized Promise Bible that inserts our name into the text, the Holy Bible: Stock Car Racing Edition, a Thomas Kinkade Lighting the Way Home Family Bible?
I"m in good company; a 2006 New Yorker article interviewed former Publishers Weekly religion editor and best-selling author Phyllis Tickle, who believes the problem is "instead of demanding that the believer, the reader, the seeker step out from the culture and become more Christian, more enclosed within ecclesial definition, we"re saying, "˜You stay in the culture and we"ll come to you." And, therefore, how are we going to separate out the culturally transient and trashy from the eternal?"
But the irony also bothers me; our 200 translations of the Great Commission take resources that could help us accomplish it. The millions being spent on The Bible: Manga Edition and The American Patriot"s Bible could fund translation for some of the people groups still waiting for a Bible in their language.
Mark Twain famously said, "Most people are bothered by those passages of Scripture they don"t understand, but the passages that bother me are those I do understand." We don"t need any more translations to understand our responsibility for sharing the good news with others. Let"s spend a little less on rhinestones and a little more on reaching the world.