Four ministers. One concern: How to find a "band of brothers" for accountability, insight, and help to finish well.
By Eddie Lowen
I was set apart for ministry by the first church that employed me. I was only 19 when they hired me (and 20 when they ordained me), yet they took a chance. They took a chance that I would graduate a year after my ordination. They took a chance that I would mature in many ways.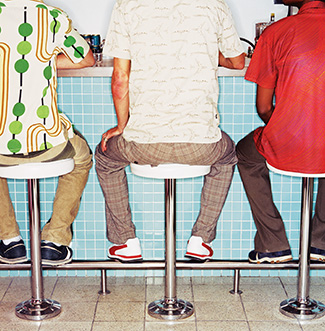 They also took a chance that I would find a wife! Seriously, at the time, an unmarried pastor was rare. Most of my college peers were married, or at least engaged. Since marriage-before-ministry was the prevailing template, some of the good folks at my church worried that I was so comfortably single.
As true believers always do, they took the matter to God. Church ladies would remind me they were praying for my future wife. During my ordination service, two leaders prayed what I coined "marry-natha" prayers: Come quickly, Lord Jesus, with a woman for Eddie! They seemed to think, With Eddie marriage is impossible, but with God all things are possible.
If eHarmony and Match.com had existed, my ordination gift from the church would have been dual subscriptions. In all sincerity, I am grateful for their prayers because those petitions prompted God to appoint me a huge winner in the game of wife.
Another Brand of Lonely
With this backdrop, you can understand why I misunderstood one of the elders who ordained me when he said, "Eddie, ministry can be a lonely calling, but being alone is a choice." Because my unattached status was a frequent topic of conversation, I assumed he was trying to light a fire under me in the matrimony department.
Several days later I realized he was not speaking of marriage. He was warning me against the self-imposed loneliness that is common among pastors.
When a thousand pastors responded to a survey by LifeWay, 55 percent reported feelings of discouragement. Interestingly, 55 percent also reported feelings of loneliness. A statistical fluke? Perhaps. A coincidence? I doubt it. I believe the majority of pastors magnify their own discouragement by placing themselves in a voluntary relational quarantine.
Pastors are susceptible to this tendency because church relationships are dangerous. Whom should you trust? How open should you be? How many times do you get burned before pulling back and putting your shields up?
Perhaps we can call it the Elijah Syndrome. The prophet Elijah bottomed out emotionally soon after his victory over the prophets of Baal on Mount Carmel. (It"s the Old Testament equivalent of resigning from your church the week after a successful building campaign.) Harassed and hunted, Elijah complained to God that he was all in, but all alone. Rather than pity Elijah, however, God offered him perspective: there were thousands of faithful servants of God in Israel. Elijah just hadn"t built relationships with any of them.
Leadership does carry some inherent loneliness. Every person who has ever been promoted above a peer has learned that greater authority, even when received humbly, changes relationships.
But God never intended leadership to be void of connections. If Jesus ever sent a disciple on a lone-wolf mission, I don"t remember it. (Sure, he told Judas to get on with the betrayal, but that"s not an example we want to follow.) Honestly, I don"t think Jesus trusted his followers individually as much as he trusted them collectively. He preferred partnership and collaboration. Jesus invented the buddy system, sending out workers two by two.
Obviously, every local church should develop a team atmosphere. But I"m convinced that every leader""and especially the key leader""needs a group of peers among whom it is safe to say anything.
Choosing to Get and Stay Connected
Fast-forward 17 years beyond my ordination to a gathering of pastors in California. Under circumstances none of us fully recalls, four lead pastors became friends and discussed our mutual need for a band of brothers. Exactly what the group needed to ultimately become, we weren"t certain. But we knew we needed it and believed God would help us discover it.
The Stinklings (adapted from the Inklings, a group of authors that included C.S. Lewis and J.R.R. Tolkien) have been gathering semiannually and communicating weekly by text and e-mail for a decade. Our activities, interests, and needs have morphed over time, but our covenant commitment to walk through our final 25 years of ministry leadership together is firm.
Affinity and common interests have helped us bond, no doubt. We all play golf and tennis. We all snow ski and water ski. We all enjoy nature and travel. We all adore our wives and kids. We share similar gifts (leadership and communication), but exercise them in unique ways.
We learn from each other, but leave room for differences. Our opinions are similar enough to place us in the same solar system, but in slightly different orbits. We agree a lot. We disagree for sport. We change each other"s minds. Sometimes.
Most years, the Stinklings schedule two gatherings of several days. We also meet-up for dinner at conferences and events. The group has no leader. Everyone initiates conversations; everyone tries to participate. Some of our e-mail and text message threads are casual check-ins and personal celebrations. Some are just for fun. Some are for sharing burdens and seeking prayers.
It"s important to note that each of us has multiple circles of pastor friends and other close friends. At a recent conference, several of us were in the same restaurant, laughing and eating with separate groups of pastor friends.
Sometimes we pull friends from other circles together. We partner on some church plants and mission projects; we fly solo on others. Freedom and flexibility are key. Discretion and confidentiality are essential.
Reach Out
Providence seems to be a factor in friendships, but our group was mostly an act of will. We all wanted something like what we have, so we chased it. If we hadn"t created it with one another, we probably would have created some version of it with other peers and friends.
If something in you wants or needs a covenant group, suggest the possibility to a leader with similar responsibilities or passions. Plan an overnight getaway with three or four participants. Evaluate the chemistry and keep it going as long as it"s valuable.
Create a Covenant
Our group produced a written covenant. It isn"t profound or polished, so we don"t distribute it. It"s the kind of document any group of leaders could create. Below are some suggested threads and themes for a similar covenant, if you want to establish some group values or practices:
"¢ Call one another to deep humility and authenticity. Establish transparency and truthfulness as an essential value for your group.
"¢ Spell out what you"ve seen in yourself and others that has obstructed the Spirit, hindered ministry, or harmed people. Ask for accountability in these areas.
"¢ Commit to confess and confront secret attitudes and character sins that aren"t discussed among casual friends.
"¢ Articulate attitudes you want to avoid as leaders.
"¢ Open the door to discuss marriage and parenting dynamics.
"¢ Determine the type of confidentiality you want for your group and to what degree it includes your spouses.
"¢ Spell out how you want to steward your influence and authority.
"¢ Establish how you"ll say hard things and hear hard things to/from each other.
"¢ Create the expectation that personal perspectives and biblical truth will be spoken in love and received humbly, even when there is disagreement.
"¢ Identify heroes who"ve modeled what you want to see in yourselves.
"¢ Identify leaders whose lives deteriorated over time or who failed to finish well, then discuss how you"ll help each other avoid a similar path.
"¢ Talk about how you will coach each other through life and ministry transitions.
"¢ Express your devotion to Scripture, but also to a growing understanding of it, which requires that old assumptions be challenged.
"¢ Talk about how you"ll hold each other accountable to foundational spiritual disciplines.
"¢ Identify the deeply personal questions you"ll be free to ask.
"¢ Talk about how you"ll resolve dysfunction between members of the group.
"¢ Discuss whether or not you"ll provide accountability for physical disciplines or goals.
"¢ Decide whether or not you"ll have the freedom to challenge and question one another in the realm of personal finances.
"¢ Determine how often you"ll communicate by e-mail, text, phone call.
"¢ Discuss whether or not you"ll invite your spouses to some of your gatherings and how that should alter your approach.
"¢ Determine whether or not your covenant will be confidential.
"¢ Determine how much you"ll tell your staff and elders about your group and your activities.
The longer we"ve done church leadership, the more our group has identified with Paul"s concern for himself in 1 Corinthians 9:27, "I fear that after preaching to others I myself might be disqualified" (New Living Translation). As influential and devoted as Paul was, he possessed a healthy fear of his own capacity to blow it. The same is true for each of the Stinklings (thus, the name), but we believe accountability and friendship can go a long way toward keeping us in the game.
Eddie Lowen, lead minister of West Side Christian Church, Springfield, Illinois, writes the "Ministry Today" column semimonthly in CHRISTIAN STANDARD and serves on Standard Publishing"s Publishing Committee.