Your Journey with the Word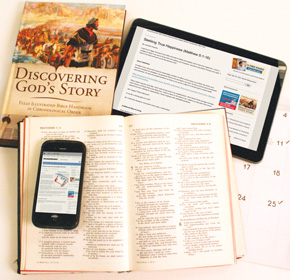 By Kelly Carr
Have you ever thought about how amazing it is to have daily access to the Word of God—a privilege unknown for centuries? We can have the Bible on our bookshelf, our e-book reader, our car stereo, MP3 player, computer, tablet, and our phone—all at the same time!
If you're looking for a new plan to jump-start your Bible-reading habit, this article is for you. We've compiled a variety of Bible reading plans, including some recommendations by Christian Standard readers.
Whether you're just beginning to read on a regular basis or you have read the Bible daily for decades, we're hoping you'll find something here to help you dig into God's Word in a new way.
Reading Plans from Standard Publishing
• The Lookout magazine publishes a Bible reading plan each year, covering 300 days. Readings for each day consist of four passages: one from the Gospels, one from other New Testament books, one from the Wisdom books (Job—Ecclesiastes)' and one from other Old Testament books. You can download a PDF of the full plan at www.lookoutmag.com.
• Discovering God's Story: Fully Illustrated Bible Handbook in Chronological Order is an illustrated handbook with a time line and Bible commentary, serving as a Bible storybook for adults. It also includes a daily Bible reading plan that does not cover the entire Bible but provides an overview of God's complete story.
For families with young children:
• HeartShaper curriculum
For each age group, preschool to preteens, there is a weekly family page in the curriculum listing Scriptures that parents can read with their children. The family pages can also be downloaded at www.heartshaper.com/resources/family-resources.
Reading Plans Found in Bibles
• One Year Bible [available in New International Version, New Living Translation, King James Version (all from Tyndale), English Standard Version (Crossway Bibles) or One Year Bible for New Believers (Tyndale)].
• The Daily Bible: In Chronological Order 365 Daily Readings by F. LaGard Smith (Harvest House, 1999).
• The Everyday Bible New Century Version (Thomas Nelson, 2002).
For teens/young adults:
• The Message//REMIX: Pause by Eugene Peterson [has one-year, two-year, and four-year plans] (NavPress, 2006).
For kids:
• Day by Day Kid's Bible by Karyn Henley (Tyndale, 2002).
Read an in-depth, chronological overview of the Bible in one year, seven minutes a day. Recommended for ages 7-10.
• Day by Day Begin-to-Read Bible by Karyn Henley (Tyndale, 2007).
Read through selections of the Bible, one story a day. Recommended for ages 4-7.
Reading Plans from Churches
• Christ's Church of the Valley (Peoria, Arizona), www.ccvonline.com/Arena/default.aspx?page=14951
A one-year plan with no readings on the weekend for flexibility. Readers can choose to have the daily Scriptures e-mailed to them.
• White Oak Christian Church (Cincinnati, Ohio), thewocc.com/#/home/2011-bible-reading-plan
Six-day-a-week readings in chronological order.
• Life Bridge Christian Church (Howard, Wisconsin), lifebridgegb.org/609804.ihtml
Printable in three sizes—one sheet, bookmarks, large print.
• National Community Church: From Garden to City (Washington, D.C.), http://fromgardentocity.com
A reading plan from Lenten season to Lenten season with Scripture choices based on a modified version of the liturgical calendar. (Please note: National Community Church is interdenominational with backgrounds from various denominations.)
Reading Plan Downloads
• Biblegateway, www.biblegateway.com/resources/readingplans/
Here you can choose which translation and which type of reading plan you want. You can receive daily reminders. Different languages are available.
• Blue Letter Bible, www.blueletterbible.org/reader/daily/
Several one-year plans and one two-year plan are offered. Access to commentaries are available through this site.
• Discipleship Journal, www.navpress.com/dj/content.aspx?id=138
Three plans are available:
5x5x5: read through the New Testament in one year for 5 minutes a day, 5 times a week, looking at 5 ways to dig deeper.
Book-at-a-Time: "Intersperses Old and New Testament books in each month's readings, with the four Gospels spread throughout the year."
The Discipleship Journal Bible Reading Plan: "Read four places in God's Word every day to better grasp the unity of the Scriptures. Read the complete Bible in one year."
• Heartlight Magazine, www.heartlight.org/devotionals/reading_plans/
Different methods available: reading straight through; chronological order; topical; New & Old Testament each day; New Testament, Psalms & Proverbs only.
• M'Cheyne's Reading Plan, static.crossway.org/excerpts/1581348150.1.pdf
Robert Murray M'Cheyne was a minister in the Church of Scotland in the 1800s. He developed a reading plan that had Scriptures each day for family readings and those for private study. The link above gives his plan in a chart, plus an introduction about M'Cheyne and his methods by D. A. Carson, excerpted by permission from The Love of God (Crossway Books, 1998).
• Michael Coley, http://bible-reading.com/bible-plan.html
Michael is a lay person who developed a one-year Bible reading plan based on a different genre each day: Epistles, the Law, history, Psalms, poetry, prophecy, Gospels.
• One Year Bible Online, www.oneyearbibleonline.com
Online access to the One Year Bible. Choose your own start date. The site also has the Matthew Henry Complete Commentary.
• Walk Thru the Bible, www.walkthru.org/free-resources
Three plans available: read straight through in a year; read the New Testament in a year; read chronologically in a year.
• Zondervan; www.zondervan.com/Cultures/en-US/Product/Bible/Plans.htm?QueryStringSite=Zondervan
Zondervan offers several reading plans:
Choose a reading plan according to where you are on your spiritual journey: Beginner, Intermediate, Advanced.
Choose a reading plan based on your time frame: read about certain topics for two weeks at a time or 30 days at a time; choose 30-, 60-, 90-, or 180-day "tours" or overviews of the Bible; or read through the Bible word-for-word in three years.
Reading Plans: Audio Versions
• Daily Audio Bible, www.DailyAudioBible.com
Listen to daily readings in English, Spanish, Chinese, Japanese, or Hindi. There is also a version for children.
• Faith Comes by Hearing, www.faithcomesbyhearing.com/ambassador/free-audio-bible-download
More than 500 audio versions of the Bible are available to listen streaming or to download the audio file for free.
• One Year Audio Bible, www.OneYearAudioBible.org
Listen to daily Scriptures read by Tom Dooley.
Reading Plan Apps
• Logos Bible Software for iPhone, www.logos.com/mobile/iphone
Logos Bible Software lets you read, search, cross reference, compare versions, and set up daily reading plans.
• YouVersion for iPhone, iPad, Blackberry, Android, and more, www.youversion.com/mobile
YouVersion offers access to more than 100 Bible versions in different languages and customizable reading plans. You can also create your own bookmarks and discuss your thoughts with other readers.
Note: This list is meant to offer you a variety of reading plans that are available from various perspectives. The views of those who have created each plan are not necessarily endorsed by Christian Standard.
Kelly Carr is a former editor at Standard Publishing and now a freelancer, mother, and minister's wife at Echo Church in Cincinnati, Ohio. 

1 Comment
Leave a Response