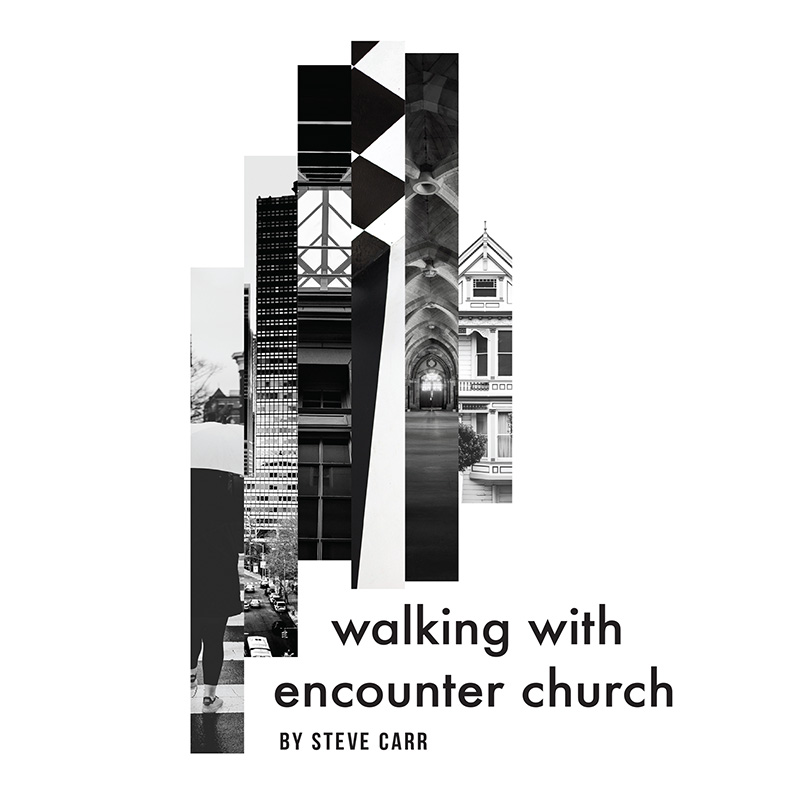 Encounter Church, Washington D.C.—An Urban Mission Field
By Steve Carr
A stretch of the famed Massachusetts Avenue in the District of Columbia is known as Embassy Row. This portion of the street is lined with more than 175 foreign embassies and diplomatic missions. Here in our country's capital is a road representing the nations of the world coming together.
A mere two miles from Embassy Row, a community of believers is dedicated to bringing the nations together for Christ. Nestled in the Columbia Heights neighborhood of Washington, D.C., Encounter Church was planted last year by Joel Pazmino and his wife, Meghan. On a recent trip through D.C., I met up with Joel to hear how the church is reaching this city for Christ.
AN URBAN JOURNEY
Parking in Columbia Heights is at a premium. I snag a spot in an underground parking garage connected to a Target store (the only one in D.C.). On 14th Street, the main artery, sidewalks are packed in the hustle and bustle most people associate only with New York City. Columbia Heights, the most densely populated neighborhood in the area, could easily be mistaken for Brooklyn. Every race, language, and socioeconomic classification is represented here. Somehow in this sea of humanity, Joel and I find each other.
Joel's personality makes you feel as if you've been friends for life. Born and raised in South America, he can easily slip back and forth between English and Spanish. Joel spent his youth in Guayaquil, a large city in Ecuador, so he's comfortable in this urban setting. Wearing a knit hat with a pair of black Beats headphones around his neck, we begin our walk through the neighborhood.
I first ask why he wanted to plant a church in Columbia Heights. Joel traces it back to his childhood. His father was a pastor, and the family was part of church plants in South America and the United States; in 2006 Joel's parents were called to plant a church in Maryland. Even with a church-planting pedigree, Joel says it wasn't until he got involved in student ministry that he realized he was called to follow in his family's footsteps.
After attending Lancaster Bible College in Pennsylvania, Joel served as associate minister to a church plant in Annapolis, Maryland. Next he completed a planting residency at New Life Christian Church in Chantilly, Virginia. Then he and Meghan were finally ready to start a church.
"When my wife and I started talking about church planting, we knew very few things," Joel admits. "But one we were sure of: We wanted to start a church in a city."
Why Columbia Heights? Joel explains simply that a church was needed there.
A TRANSITIONING NEIGHBORHOOD
Traffic is at a standstill, so it takes Joel and me several minutes to cross over 14th Street. It's immediately evident that Columbia Heights is unique. While its proximity to Embassy Row and Capitol Hill naturally connects the community with D.C.'s elite, it also hosts some of the city's poorest residents.
The neighborhood has seen a world of change over the past 200 years. In the 19th century, the area transitioned from farmland to college town (originally the site of George Washington University) to suburb. Beginning the 20th century, it was the home of the affluent and powerful—government managers, Supreme Court justices, and high-ranking officers in the military. After World War II, many African-American families relocated here. When the neighborhood was practically destroyed in the race riots of 1968, the community became the landing place for generations of Latino immigrants.
But whenever a people group moved on, a remnant remained. By the end of the last century, Columbia Heights had transformed into a fully diverse community. Of the white, Asian, black, and Latino populations, not one of them has enough to constitute a majority.
Joel and I walk past the Columbia Heights Metro Station stop. Even in the middle of the afternoon, scores of people are pouring in and out of its turnstiles. In the city, public transportation is life, so when the heavy rail transit system was finally connected to the neighborhood in 1999, it attracted a new generation of affluence.
Walking through the Civic Plaza affirms this. Over the last 10 years, real estate prices have nearly tripled. Yet there's still space in Columbia Heights for all, whether in high-priced townhouses or lower-income housing.
PAVING THE WAY FOR GODLY COMMUNITY
The neighborhood features a second major artery, 11th Street, which is where we're headed. If 14th Street is the heart of Columbia Heights, 11th Street is its soul.
At the corner of Irving and 11th, we pass by Tubman Elementary School, named for famed abolitionist Harriet Tubman. Built shortly after the 1968 riots, the school serves as an oasis for the impoverished in the community, providing free dental care for its students. This neighborhood values its children.
Catty-corner to the school's soccer field is the Wonderland Ballroom, a neighborhood hangout featuring food and dancing. The Wonderland is what sociologist Ray Oldenburg called a "third place"—a location where people from all walks of life can connect for the betterment of society. In a neighborhood like Columbia Heights, where homes and apartments are smaller, places like the Wonderland are important for forging connections.
While the sense of community is strong in Columbia Heights, there are few Bible-believing churches. Since the gospel confronts some of the most sacred of secular beliefs concerning tolerance, churches in urban areas are viewed with a level of skepticism. It's critical for churches to intertwine their ministry efforts with community opportunities.
For Encounter Church, this means sponsoring and supporting the local street food festival. Additionally, Meghan serves as the neighborhood engagement coordinator for the local Main Street Program, which has opened up a number of opportunities for Encounter to cement its presence in the neighborhood and have deeper conversations.
ROADBLOCKS IN THE CITY
Encounter started with a focus on reaching second-generation immigrants—those individuals who are Americans but maintain strong connections to their national heritage. Interestingly, while they've attracted some of this demographic, the church has seen a strong response from the neighborhood's aging black population.
Even Joel admits it's humorous that a young, South American-born minister is called to minister to older African-American women. But he's intent on improving his skill set to meet their needs. Encounter is dedicated to ministering to anyone willing to join them.
As we turn the corner onto Monroe Street, we walk past some new construction of high-priced condominiums and Joel starts telling me the story of a lady he met in the neighborhood who had recently started attending the church. As he is describing her, Joel's voice suddenly goes soft. I notice him glancing across the street, and then he waves.
"How are you doing, Pastor?" a woman shouts to him. Joel responds, and the two of them engage in a pleasant conversation from opposite sides of the street. As we resume our walk, he confides, "That's the woman I was just telling you about. It's awesome that we saw her."
In the city, there's always a path for ministry.
We are forced to move around a newly repaired sidewalk, and this seems like the perfect metaphor for Encounter: There are endless obstacles facing a church that tries to establish itself in the city. One stumbling block is that those who belong to the church sometimes don't prioritize worship attendance.
"We have a few people who consider themselves regulars that only show up once every couple of months," Joel admits. "I get it. They have job responsibilities and family scattered around the region, but it's a challenge to build a church on this."
Another struggle is ministering in a neighborhood that's ambivalent about its existence. Even though Encounter is dedicated to reaching those who feel they don't belong, Columbia Heights isn't very warm to Bible-teaching churches.
"How do you impact a community for Christ when the neighborhood doesn't care that you're there?" Joel wonders aloud.
WALKING IN COMMUNITY
We complete a big circle around Columbia Heights and arrive back on 14th Street. There is one last historical landmark that Joel wants to show me: the Tivoli Theatre, where Encounter Church meets on Sundays. The location is amazing, right on the main thoroughfare (with free parking on Sundays!).
Built in 1924 as a movie theater, and now an arts center, it's one of the most elegant theaters in the District of Columbia. It's in the very center of the neighborhood where any resident would feel comfortable visiting.
Joel, Meghan, and a team of believers launched Encounter Church on September 10, 2017. As Joel reflects on their one-year journey, he admits it hasn't been easy.
"There have definitely been challenges we wouldn't have faced if we started elsewhere. In more suburban areas, it's generally easier to start a church. The cost of living is more affordable, finding meeting space is easier . . . but I'm convinced we made the right move; this type of ministry is incredibly important."
This passion is contagious and has the potential to exponentially impact the kingdom. When Encounter was starting, another couple that was praying about planting a church heard about Joel and his team and decided to join them. In the spring, the couple became church-planting interns with Encounter and are preparing to plant a church in Maryland.
I've always had a heart for urban church planters as well as missionaries on foreign fields. They are similar in this way: Both see a great need for the gospel to be taken to challenging contexts. Where many might turn away because of endless obstacles, some are willing to risk everything to reach the nations.
That's why we need to walk alongside people like Joel and Encounter Church—those who are dedicated to reaching difficult but influential places for Christ.
Steve Carr serves as vice president of ministry development for CDF Capital.
________
WEB EXTRA: Practical Next Steps for Your Ministry
How can you walk alongside people like Joel Pazmino and Encounter Church?
First, get to know more about our movement's church-planting groups. Our movement continues to start new churches in America's urban core. Perhaps God is calling you to get involved in supporting their work. Here's a sampling of organizations planting churches in urban areas:
Stadia: www.stadiachurchplanting.org  
Orchard Group: www.orchardgroup.org  
Restoration House: www.rhmnewengland.org
Waypoint Church Partners: www.waypointchurchpartners.com
Second, if you're part of a suburban or rural church, see if you can find a potential sister church in a nearby urban area. Call or email the minister. See if they'll give you a walking tour of their neighborhood. When we start to view our nation's cities as mission fields, it transforms our attitude toward those areas.
Finally, walk the streets around your own church. In suburban and rural areas, we rely heavily on auto transportation and generally walk for exercise. Devote an hour to a prayer walk on the streets adjacent to our own church and you might observe something you've never noticed before.