By Jim Nieman
The 85th installment of the Lake James School of Missions July 25-31 is shaping up as one of the most highly anticipated gatherings in recent history, according to organizers.
"This year looks to be the biggest we've had in about a decade," said Paul Brunsman, who is sharing program chairman duties this year with J.D. Hite.
Last year's event was canceled due to COVID-19, just one of many casualties of that virus. It was only the second time since 1935 that the annual event, hosted by Lake James Christian Camp and Retreat Center near Angola, Ind., was forced to cancel. (The other time was during World War II.)
Brunsman said the School of Missions is a time for missionaries and church folks to interact on a personal level. Many of the church campers come back year after year, while the various missionaries typically attend a bit more sporadically.
"It's somewhat of a reunion," said Brunsman. "The people I know from the School of Missions I may only see once a year. . . . [Missionary] Dale Meade can't make it every year, but when he can, that's a reunion for those who have met him [at School of Missions] over the years."
Though Brunsman and Meade—a longtime missionary with Colombian Christian Mission—both hail from Northeast Ohio, they met at a School of Missions. Through that connection, Brunsman connected Meade with Geneva (Ohio) Church of Christ, where Brunsman serves as an elder and occasional preacher. "And now we've supported him for a decade," Brunsman said.
SCHOOL OF MISSIONS: THE EARLY YEARS
Since its beginnings, the School of Missions has served as one means through which missionaries can help build a support network, said Rick Cherok, professor of church history and U.S. history with Ozark Christian College, Joplin, Mo. Cherok, who also serves as executive director of Celtic Christian Mission, will lead a time of daily Bible study at Lake James this summer using the theme "Worlds in Conflict."
Cherok said the first School of Missions in 1935 occurred after a prolonged period of discord over mission support in the Restoration Movement and a time when more conservative independent churches separated from the United Christian Missionary Society.
The 1930s was also the latter part of a long period of time (that started in the 1870s) when women played surprisingly large roles (considering the times) in organizing support for missionaries.
Christian Standard's first mention of the Lake James School of Missions appeared in the issue of June 22, 1935: "The week of July 15-21 has been set aside at Lake James, Ind., for the Women's Missionary Societies. . . . Capable leaders, speakers and teachers have been secured, and for six days the women of the churches will discuss ways to make the work of their local missionary societies more effective." A wrap-up story on Aug. 10, 1935, noted, "While the program was built with the missionary women in mind, many plans were offered whereby the men of the church could be interested and enlisted in the cause of missions."
Three years later (on July 16, 1938), the magazine editorialized: "This program at Lake James is a worthy school in which all leaders can find not only missionary inspiration, but missionary information."
Over the years, many wonderful missionary workers have participated—the Morse Family, Mark Maxey and Tibbs Maxey, Isabel Dittemore, C.Y. Kim, David Grubbs, Max Randall, and many others—but the School of Missions never outgrew the Lake James facility or format. Attendance has stayed relatively consistent over the years. During the School of Missions, Lake James hosts no other camps.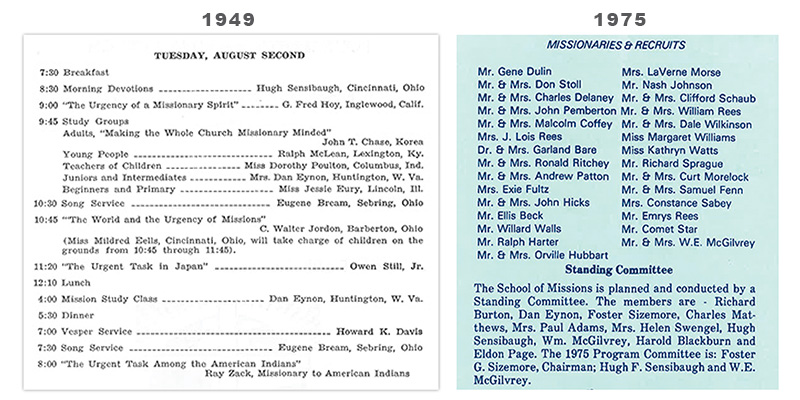 SCHOOL OF MISSIONS: MORE RECENTLY
John Love, who managed the Lake James camp for 36 years (until 2013), said an average-size group during those years was "maybe 200–225 weeklong campers, with another 30 or so people attending the evening program."
Most of those School of Missions campers came to Lake James from outside the area.
"I always said it is the best-kept secret from the local churches," said Love, adding that by "local" he meant the 80 or so churches that support the Lake James camp. Some of those folks would attend certain School of Missions sessions, mainly in the evening.
"My wife [Sybil] and I made lasting relationships with the missionaries and the attendees," he said.
The Loves' son, Matt, now directs the camp, and their daughter, Jennifer Sears, serves as camp nurse and as registrar for the School of Missions.
"This is about connecting missionaries with people [in the churches]," Brunsman said.
"When I put a program together, I ask myself, 'How is this going to help the people in the local churches . . . and how is this going to help the missionaries?"
A daily feature late Cincinnati Christian University professor (and longtime School of Missions participant) Dan Eynon started that Brunsman has continued is an informal morning interview with various missionaries that campers listen in on.
"I've interviewed people who have gone on short-term trips. I've interviewed children of missionaries ('What's it like over there?'). I've interviewed husband and wife missionary teams. . . . It's something the people enjoy because they might [hesitate] to ask some of these questions. 'What do you eat? What's the political climate of your country? What are some of the challenges?'"
"Lake James School of Missions provides missionaries and mission-minded people a great platform to get personally acquainted with each other," said Rick Jett, executive director of IDES (International Disaster Emergency Service). "They give each missionary or mission representative opportunity to share about their work at different times during the week."
Missionaries, mission representatives, and forwarding agents are encouraged to briefly introduce themselves at each big gathering during the week.
"The main role, in my opinion, of the Lake James School of Missions is fellowship and instruction," said Jett, who has been attending since about 2002. "Some new recruits have attended to introduce their work and have gotten some support, but the week is more about building relationships. . . . It is a great week of Christian fellowship."
The only multi-mission gathering familiar to most folks in our churches is ICOM, the International Conference on Missions (formerly called the National Missionary Convention), which hosts a big annual gathering (this year's event is Nov. 18-21 in Richmond, Va.)
"Both of them are important," said Brunsman. "It's kind of like the megachurch vs. the smaller church. At the School of Missions, you get to know the missionaries . . . if you make the effort. You can get to know those missionaries [a little better] than at ICOM, just because there are thousands of people at ICOM."
"Lake James School of Missions and ICOM are comrades [that are] both seeking to help our missionaries," said David Empson, executive director of ICOM. Both groups are "totally independent," he said, "but what they do regionally, ICOM does nationally."
A 'MULTI-GENERATIONAL TRADITION'
Many of the folks who attend the School of Missions have been coming back for years, even decades. Children's programming has been offered since very early on.
Glen Shady, a missionary since 2016 with French Christian Mission in Paris, said Lake James School of Missions is a "multi-generational tradition" in his family. His grandparents, who served as forwarding agents for missionaries in Barbados, began attending the camp in the 1950s, while his parents started in 1990 when Glen was 3. (His father, Kent, was missions team chairman with First Church of Christ in Bluffton, Ind., for 25 years.)
The School of Missions "perfectly blends all the positives of an annual family camp with truly personal interactions with missionaries," said Shady, who serves in France with his wife, Jessica, and their three daughters. "On the family camp side, there's programming for kids, teens, and adults, but afternoons are free for fun."
He called it a "safe and relaxing space" for missionaries.
"It is a time of genuine sharing and decompression [in] a community of people passionate and knowledgeable about the lives of missionaries," Shady said. "There's no aspect of the week which is for fundraising or anything like that. Except for specific times of presentation or being an evening speaker, it's not a context where missionaries need to constantly 'be on' . . ."
"I know part of the legacy of the School of Missions is the fact that I am now serving on the field with my family," Shady said.
Brunsman also started attending School of Missions at about age 3, but his first time there was in the early 1960s, three decades before Shady.
"Growing up there and learning who these missionaries were, I really enjoyed it," Brunsman said. "We're seeing people my age are bringing their kids and grandkids with them, and that's exciting."
THIS YEAR'S SCHOOL OF MISSIONS
The theme this year—"Wait for the Lord . . . Hope in His Word" (from Psalm 130:5)—features keynote speaker Brett Seybold, who, together with his wife, Heather, served as missionaries to Germany for a decade. More recently, he founded KAPOL (Kontakt Apologetics), a European-based mission that centers on apologetics and engaging skeptics.
 Others scheduled to speak in evening sessions at the School of Missions this year include Chris Irwin of EnterMission, Dale Meade with CCM, Glen Shady of French Christian Mission, Thomas Kim of Christ Reaching Asia Mission (CRAM) Worldwide, and Dewayne Liebrandt with NBCM/DEAF (taking the gospel to the Deaf in North Burma and Colombia).
Brunsman said the School of Missions would love to welcome additional missionaries, forwarding agents, representatives of mission agencies, and church folks who have an interest in missions and mission work. Over the years, many people have committed their lives to missionary service during the week. Families are welcome, as a completely graded program is conducted for 2-year-olds through high-schoolers.
Organizers ask only that you register at the www.ljca.org website.
Some people stay in available housing at the camp, and some people stay in tents or campers—all of that can be worked out. Plus, it'll be an experience like no other, Brunsman promises.
"To be with missionaries, even if it's just for a week, you learn things you don't get to learn when a missionary comes to your church."
Jim Nieman serves as managing editor of Christian Standard.