How this article came about isn't stated. We don't know how the editor learned of this letter from P. H. Welshimer, the leading Christian church preacher at the time, to an unnamed Brite Bible College student. Beyond that, this doesn't read much like a letter or an article—but that's OK. It's direct and to the point. And while some of the advice is dated, though quaint, much of it remains helpful.
_ _ _
Advice to a Young Preacher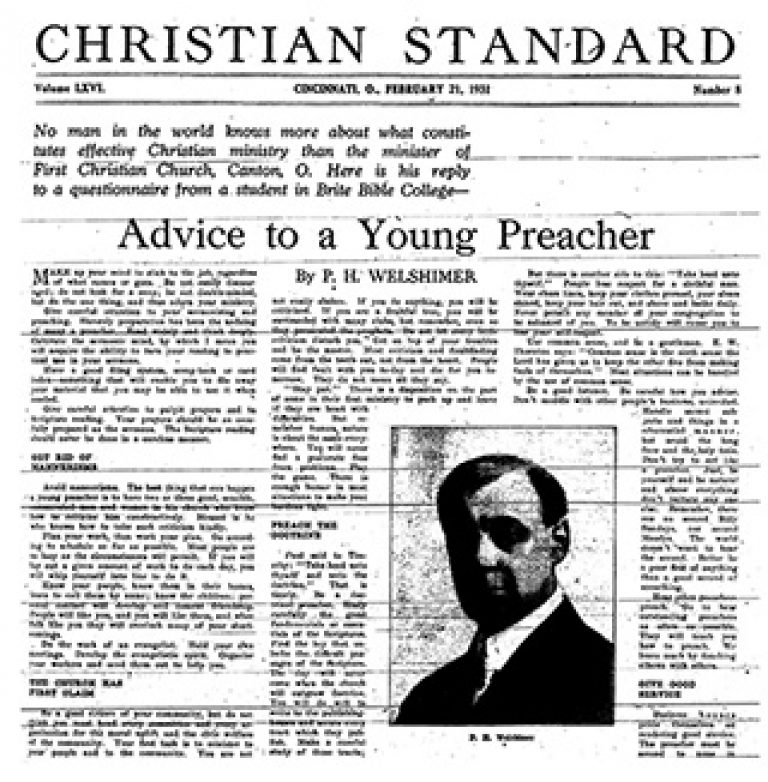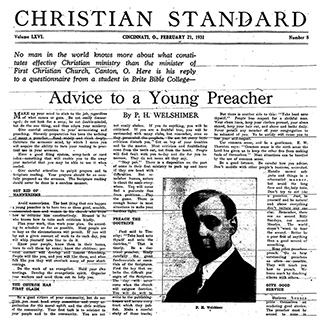 By P. H. Welshimer
February 21, 1931; p. 3
No man in the world knows more about what constitutes effective Christian ministry than the minister of First Christian Church, Canton, O. Here is his reply to a questionnaire from a student in Brite Bible College—
Make up your mind to stick to the job, regardless of what comes or goes. Be not easily discouraged; do not look for a snap; be not double-minded, but do the one thing, and thus adorn your ministry.
Give careful attention to your sermonizing and preaching. Slovenly preparation has been the undoing of many a preacher. Read widely and think deeply. Cultivate the sermonic mind, by which I mean you will acquire the ability to turn your reading to practical use in your sermons.
Have a good filing system, scrapbook or card index—something that will enable you to file away your material that you may be able to use it when needed.
Give careful attention to pulpit prayers and to Scripture reading. Your prayers should be as carefully prepared as the sermons. The Scripture reading should never be done in a careless manner.
GET RID OF MANNERISMS
Avoid mannerisms. The best thing that can happen [to] a young preacher is to have two or three good, sensible, consecrated men and women in his church who know how to criticize him constructively. Blessed is he who know how to take such criticism kindly.
Plan your work, then work your plan. Go according to schedule so far as possible. Most people are as lazy as the circumstances will permit. If you will lay out a given amount of work to do each day, you will whip yourself into line to do it.
Know your people, know them in their homes, learn to call them by name; know their children; personal contact will develop and cement friendship. People will like you, and you will like them, and when they like you they will overlook many of your shortcomings.
Do the work of an evangelist. Hold your own meetings. Develop the evangelistic spirit. Organize your workers and send them out to help you.
THE CHURCH HAS FIRST CLAIM
Be a good citizen of your community, but do not think you must head every committee and every organization for the moral uplift and the civic welfare of the community. Your first task is to minister to your people and to the community. You are not merely a good fellow among the people, but you are a prophet among men. The church has the first demand upon you. Many a man has been considered a good fellow in the community who was a flat failure as a minister and a pastor because he permitted luncheon clubs, lodges and all kinds of committees to take his time and his talent; his church was neglected, and he simply rattled around in the pulpit.
"Like a tree planted by the rivers of water," be not easily shaken. If you do anything, you will be criticized. If you are a fruitful tree, you will be surrounded with many clubs, but remember, even so they persecuted the prophets. Do not let every little criticism disturb you. Get on top of your troubles and be the master. Most criticism and faultfinding come from the teeth out, not from the heart. People will find fault with you today and die for you tomorrow. They do not mean all they say.
"Stay put." There is a disposition on the part of some in their first ministry to pack up and leave if they are beset with difficulties. But remember human nature is about the same everywhere. You will never find a pastorate free from problems. Play the game. There is enough humor in most situations to make your burdens light.
PREACH THE DOCTRINE
Paul said to Timothy: "Take heed unto thyself and unto the doctrine." That is timely. Be a doctrinal preacher. Study carefully the great fundamentals or essentials of the Scriptures. Find the key that unlocks the difficult passages of the Scripture. The day will never come when the church will outgrow doctrine. You will do well to write to the publishing houses and secure every tract which they publish. Make a careful study of these tracts; build up your library with good doctrinal books; not only read them, but study them, know them and preach them. The gospel is still new to most people.
Do not try to build up your audiences by claptrap methods, discussing the new movies, the new fiction, but preach the Word. People go to church to hear Biblical sermons. The church can never compete with the movie. It is not supposed to.
YOUR OWN LIFE AND CONDUCT
Then, Paul said to Timothy: "Take heed unto thyself." Pres. E. V. Zollars, of Hiram College, said to a class of ministers who were being ordained in 1897: "Young men, while you are helping to save other people's souls, you must save your own." By that he meant the preacher must have time for his own devotions, meditation, study, if he will grow and develop the spiritual man.
But there is another side to this: "Take heed unto thyself." People lose respect for a slothful man. Wear clean linen, keep your clothes pressed, your shoes shined, keep your hair cut, and shave and bathe daily. Never permit any member of your congregation to be ashamed of you. To be untidy will cause you to lose your self-respect.
Use common sense, and be a gentleman. E. W. Thornton says: "Common sense is the sixth sense the Lord has given us to keep the other five from making fools of themselves." Most situations can be handled by the use of common sense.
Be a good listener. Be careful how you advise. Don't meddle with other people's business, uninvited. Handle sacred subjects and things in a reverential manner, but avoid the long face and the holy tone. Don't try to act like preacher. Just be yourself and be natural and above everything don't imitate anyone else. Remember, there are no second Billy Sundays, nor second Moodys. The world doesn't want to hear the second. Better be a poor first of anything than a good second of something.
Hear other preachers preach. Go to hear outstanding preachers as often as possible. They will teach you how to preach. We learn much by touching elbows with others.
GIVE GOD SERVICE
Business houses pride themselves on rendering good service. The preacher must be second to none in serving. Give speedy attention to the sick and the sorrowing, the discouraged and the delinquent. A day's delay sometimes plays havoc in the pastoral relation.
Make careful preparation for funerals, weddings and baptisms. These public ministrations should be conducted decently and in order. One of the best sermons on baptism is the following of the orderly processes in the baptismal service. The wedding is the one big occasion in the life of young people. Treat it as a big occasion. Upon no other occasion does the preacher have opportunity of drawing so near to people as at the funeral. When the service is over, may the people say of you: "He has been a comfort unto me."
Be appreciative of your helpers. Commend your co-laborers. Let people know you are appreciative of the help they give you. Make a careful study of the art of getting along with people. And, finally: "Whatsoever thy hand findeth to do, do it with thy might."
_ _ _
A few pages later, under the heading "PREACHERS WORK—WORK HARD!" the editor shared:
It must be quite manifest that Bro. Welshimer is giving an outline of his own methods. And it is equally manifest that those methods are characterized by hard work, detailed work, and careful planning and then a persistent working out of that plan, whether it be with regard to sermons or handling people or handling oneself.
It may not seem kind to say it, but it is true, none the less, that a number of the preachers who are now idle—though not all of them, of course—are idle for the simple reason that they have not learned to work hard and efficiently. Many of them are pretty fair as preachers, many of them are fair as organizers. But they have failed to discipline themselves. No line of activity has more temptations to laziness than has preaching. The church can not, of course, keep a timeclock on the preacher. He ought to keep some sort of a schedule on himself—and a pretty rigid one.
Then, again, the very fact that so much of his work is talking may lead him to depend upon his ability to do that alone. If it comes easy, the temptation is the greater. He neglects to discipline himself along other lines.
There never was a time when hard work was so needed in the churches, and there never was a time when the rewards of self-disciplined hard work were more satisfying than right now.