By Chris Moon
For the down and out, Overlake Christian Church stands as a refuge.
The church in Redmond, Wash., has hosted a Safe Parking Ministry since 2015 that gives people who don't have homes—but do have vehicles—a safe place to park for the night.
The idea is to help people connect with the church and eventually find their way into long-term housing. The ministry is an intensive one.
"There's lots of ups and down," said Josh McQueen, caring ministries pastor for the church, which had a pre-pandemic attendance of 1,200 to 1,500. "We see a lot of folks get into housing eventually."
Homelessness and "vehicle residency" have grown exponentially during the past 20 years in the Seattle metro, to the point the local county government deemed it a crisis about five years ago, McQueen said.
Lack of affordable housing is a chief cause of homelessness in the area. McQueen said demand for housing is strong, pushed by the tech sector—led by Amazon and Microsoft—that has boomed in the region.
As a result, many people are priced out of even the most modest of housing units. McQueen said the wait for subsidized housing can be years' long.
"A full-time minimum wage job can barely make rent," he said.
STEPPING IN
The Safe Parking program at Overlake Christian Church allows up to 15 vehicles to park on the church's property overnight. People seeking to use the program must follow certain rules. Tent camping is not allowed, nor is sleeping out in the open at the church.
Each participant undergoes a background check.
McQueen said the program generally stays at or near capacity, with 12 to 15 cars parked at the church each night.
The program is modeled after a similar one by a local Methodist church that served families and single women who are living in their vehicles. That program had to turn away single men and couples without kids, and the Methodist minister challenged OCC to pick up where it was leaving off.
Overlake already had a well-used program offering free showers to the homeless at its facility. The Safe Parking Ministry became the next step.
"We just realized that it was something we needed to wade into," McQueen said.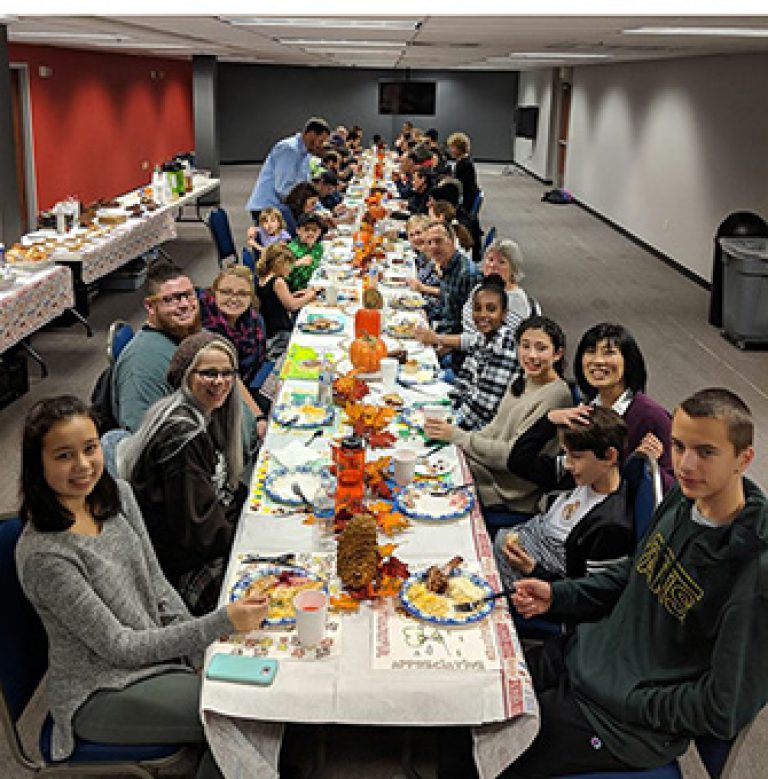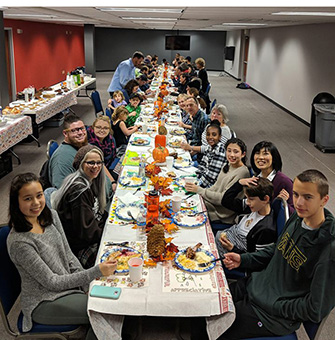 SPIRITUAL AND MATERIAL HELP
McQueen said homelessness typically results from a breakdown of community in people's lives.
"Homelessness is not a resource issue. It is a relationship issue," he said.
Most people have entire networks of social connections, from their immediate and extended families to their friends. Those who end up homeless, for a variety of reasons, lack those social connections.
"The folks in our program—their communities have fallen apart," McQueen said.
Participants in the Safe Parking program are allowed to stay for up to a year while they work to find housing. They regularly interact with members and staff at the church and get introduced to the idea of a Christian community.
Meanwhile, a city case worker helps participants find a stable place to live.
And so spiritual and material needs are met simultaneously.
"That's something the church can provide that other social service agencies in the community can't," McQueen said.
McQueen said during the past two years, 40 to 50 percent of the program's participants have moved into long-term housing. Another 10 to 20 percent have moved into a more stable program, like a shelter.
SUCCESS STORIES
McQueen can recount the success stories—like one man who came to the Safe Parking Ministry after living in his vehicle for a couple of years. After meeting with a case worker, he was able to connect with a mental health professional and was diagnosed with autism.
"He didn't realize he was autistic," McQueen said.
The diagnosis opened the door to Social Security disability insurance and permanent housing.
"His story is a familiar one in terms of people coming to us and not having access to resources," McQueen said.
In another case, a woman regularly came to Overlake Christian Church for its showers. She was part of the Methodist church's safe parking program.
The woman eventually moved into permanent housing and started coming to Overlake's worship services.
She now volunteers twice a week in its shower ministry.
"She understands what they're going through," McQueen said. "She's been a great story in that sense of community."
Chris Moon is a pastor and writer living in Redstone, Colorado.