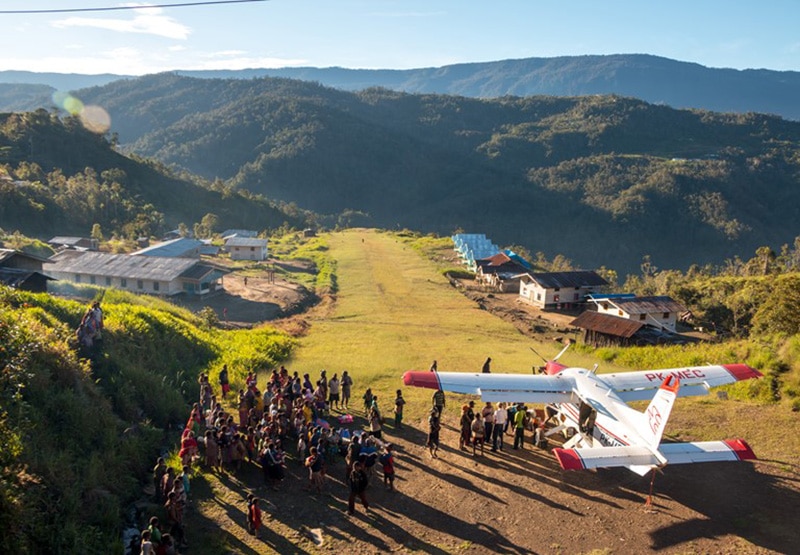 By Laura McKillip Wood
On Monday and Thursday (Oct. 18 and 21), moviegoers across the United States can watch Ends of the Earth, a documentary film tracing the history and work of the adventurous cross-cultural workers of Mission Aviation Fellowship (MAF), whose pilots and planes take the gospel message to isolated people in previously unreached parts of the world. Local churches can also register to host showings of the film, and the documentary also will be featured in a screening at the International Conference on Missions in Richmond, Va., at 4 p.m. Saturday, Nov. 20.
This documentary marks the latest effort to reach the world for Christ by MAF, whose history goes back more than seven decades. MAF's story began at the end of World War II, when veteran pilots returned home with a desire to use their skills to take the gospel to people in isolated areas of the world. MAF marked its 75th anniversary in 2020.
In MAF's inaugural flight in February 1945, pilot Betty Greene—a veteran of the Women Airforce Service Pilots (known as WASP)—flew two workers with Wycliffe Bible Translators from California to Mexico. Since that first flight, MAF's purpose has been "to see isolated people changed by the love of Christ by serving together to bring help, hope, and healing through aviation."
MAF currently works in 13 countries, including Papua Indonesia, Haiti, Lesotho, Mozambique, and several restricted nations. MAF works with missionaries from a variety of evangelical churches and organizations, including Christian churches and churches of Christ.
The idea for the documentary originated five years ago when MAF leaders began thinking of ways to celebrate their 75th anniversary. MAF had plenty of film footage and stories, but didn't know how to combine those elements. They called on Change Media, Collide Media, and Fathom Events to help create and publicize the documentary. MAF partners helping to fund the production included Moody Bible Institute, Christian Community Credit Union, The Jesus Film, and Our Daily Bread.
The aviation ministry originally planned to release the film in 2020, but the COVID-19 pandemic caused filming and production obstacles that actually allowed for a better-quality film that includes up-to-date stories of how the pandemic has affected cross-cultural ministries around the world.
The movie, of course, features true stories and real people, not actors. They include pilots, their spouses, missionary partners serving in the field, and isolated people themselves.
One of the main story lines focuses on a man named Liku, who lives in Mokndoma, Papua Indonesia. When missionaries came to his village and translated the Bible into the local language, he accepted Christ. God put it on his heart to teach the Bible, and he began dreaming of sharing the gospel with people in surrounding villages. The terrain is formidable, and one village he targeted was a three-day walk from his. That village eventually built an airstrip to welcome MAF flights. MAF traveled there and captured footage of the people in the village and their responses to the gospel.
Liku's story is not unique. MAF missionaries and their partners have found that when local people are able to read the gospel in their own languages, they become passionate about sharing it with their neighbors. The gospel spreads organically.
To purchase tickets for next week's limited theatrical release of Ends of the Earth, or to register your church to host a screening of the movie, or to learn more about the work of MAF and the documentary, visit endsoftheearthmovie.com.
Laura McKillip Wood, former missionary to Ukraine, now lives in Papillion, Nebraska. She serves as an on-call chaplain at Children's Hospital and Medical Center in Omaha. She and her husband, Andrew, have three teenagers.