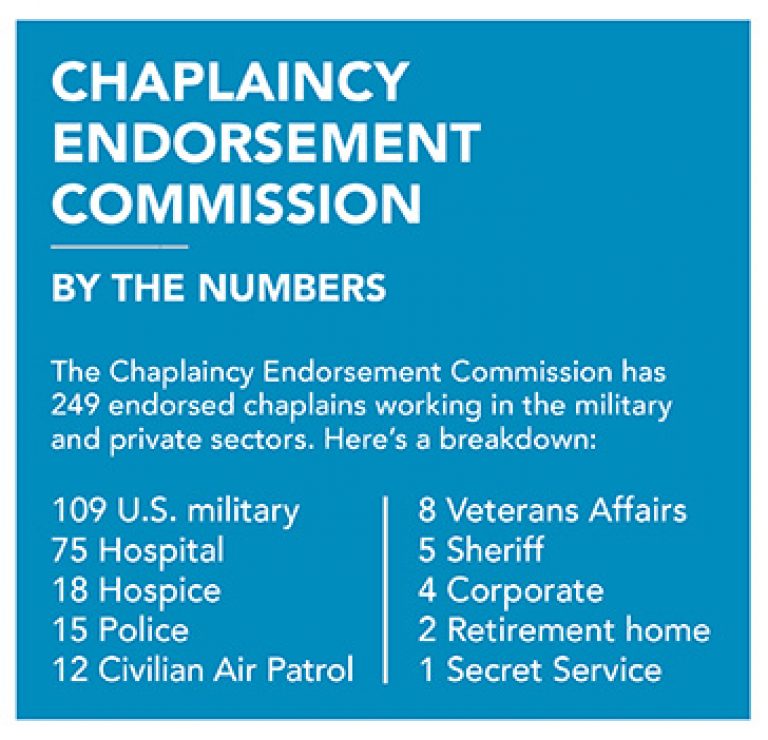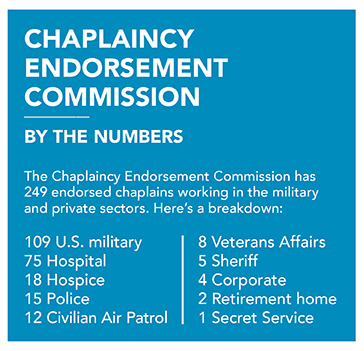 By Chris Moon
Hard times bring out the best in some people.
That's been the experience of Kal McAlexander and the Chaplaincy Endorsement Commission, which sends Restoration Movement chaplains into the military and civilian workforce.
"Recruitment went up during COVID," said McAlexander, executive director of the CEC.
During the past year and a half—marked by the COVID-19 pandemic and social strife across the country—full-time chaplain endorsements by CEC grew by 10 to 15 percent, McAlexander said.
CEC now has 249 full endorsements. That includes 109 military chaplains and 140 civilian chaplains, the latter of whom work in places like hospitals, police departments, and the corporate world.
The military side has even more growth on the horizon. CEC's military chaplain candidate program, which works with seminary students intent on joining the military, grew from 30 to 42 candidates since the start of the pandemic.
McAlexander said it's possible within the next few years CEC will have more than 300 endorsed chaplains—all from independent Christian churches and churches of Christ—working in military and civilian roles around the world.
McAlexander likens it to sending out hundreds of missionaries for the church, with very little actual expense to the church.
"Our chaplains are in places that local ministers don't usually have the opportunity to go into," he said.
A BOOST IN INTEREST
McAlexander said he believes the COVID-19 pandemic caused a lot of people to slow down and consider their ministry career paths.
"My guess is there's a lot of people thinking about [chaplaincy], intending to do it, and just hadn't gotten around to it," he said.
He said some would-be chaplains could see the need for ministry outside the church, particularly in first responder-type roles during the pandemic.
"In a sense, our chaplains are on the front lines whether it's in hospitals or hospice care," McAlexander said.
Meanwhile, as social unrest spread across the country in 2020—testing police departments in some urban areas—the need for law enforcement chaplains became evident, he said.
"Folks are stepping up," he said.
McAlexander said the Chaplaincy Endorsement Commission also has been working harder to get the word out about its services.
The organization was founded in 1969 after being recognized by the U.S. Department of Defense as the official endorser for chaplains from independent Christian churches and churches of Christ.
Since then, CEC has begun endorsing chaplains in the civilian world, too. It recently endorsed its first Secret Service chaplain, McAlexander said.
But it's not easy to operate in the loose organizational structure of the Restoration Movement.
"A lot of people don't know we exist," McAlexander said. "One of our big challenges is that communication and education piece. We're getting better and better at leveraging social communication."
The organization also has been sending dozens of chaplains to the Spire Conference and to the International Conference On Missions.
SEEING THE BENEFITS
McAlexander recognizes the hard work done by church pastors, but he said chaplaincy can be another beneficial way to do ministry in a culture that is growing more secular.
"How many local pastors would really love the opportunity to go into the workplaces of their parishioners day by day, hour by hour, and be with them where their people are—and to be able to intermix with people who don't have any church home or church background on a regular basis?" McAlexander asked.
Chaplaincy also allows ministers to connect with people who are facing trying circumstances. . . . people who are asking some of life's biggest questions.
McAlexander was a U.S. Navy chaplain for 28 years, serving in Operation Desert Storm and Operation Iraqi Freedom. An early assignment in his career was at basic training at Parris Island, S.C., where he said he witnessed 326 baptisms in two and a half years.
"They are more open to the gospel than at any other time in their lives," he said.
Chris Moon is a pastor and writer living in Redstone, Colorado.