Andrew Wood's reviews are designed to provide talking points about current movies that readers can use to take conversations with family and friends in spiritually thought-provoking directions. (Note: While this review is of a film about a well-known individual, it includes "spoilers" that reveal some of the film's narrative.)
_ _ _
Elvis
PG-13 • 2022 • Biography/Drama • 2 hours 39 minutes 
Starring: Austin Butler, Tom Hanks, Olivia DeJonge, Helen Thomson, Richard Roxburgh
_ _ _
By Andrew Wood
I never thought it possible a movie could turn me into both an Elvis fan and a Tom Hanks hater! Such is the emotional impact of director Baz Luhrmann's gripping biopic Elvis and the powerful acting of leading men Austin Butler (Elvis) and Hanks (Colonel Tom Parker).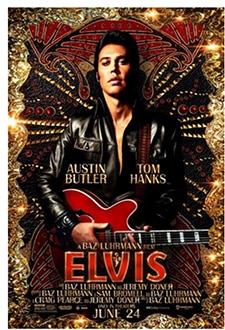 The life story of Elvis emerges as narrated by Colonel Parker, a huckster and gambling addict who manipulates the Presley family for his own financial gain. In his telling, Parker was responsible for creating Elvis the superstar and introducing him to the world. In doing this, Parker says he was merely giving the public what they wanted. If that required lying about his own motives, taking advantage of a naive family's trust, and forcing Elvis to work a self-destructive schedule, then so be it. So maybe the real villains are . . . us?
Audience members too young to remember Elvis—who died in 1977—may be surprised to learn the "King of Rock and Roll" spent much of his childhood in a black community in racially segregated Mississippi. Among his musical and cultural contributions were popularizing black gospel, rhythm and blues, dance, and dress for the mainstream. Elvis was polarizing, as all revolutionaries are. He was criticized early in his career for obscene gyrations and breaking down segregation; later, for not speaking out strongly for civil rights and even for cultural appropriation.
Elvis Presley's family members are portrayed as well-meaning but dazzled and overwhelmed by his success. The death of his doting mother left a permanent hole in his heart, even as he lived in a home overflowing with family, friends, and hangers-on.
His wife, Priscilla, seemed to be one of the few voices of reason in his life, but she was unable to rescue him from a lifestyle of garish spending, illicit affairs, and drugs that ultimately cut short his life. Incidentally, Priscilla, now 77, approves of the movie; she said it took her days to recover from the emotional impact of watching Butler's performance and seeing the events so accurately re-created.
An area inadequately explored in this film is the Christian faith of Elvis—which was a lifelong part of his identity despite his moral failures. People interested in this crucial facet of his life should watch for The Faith of Elvis, a new book authored by Presley's stepbrother, Billy Stanley, and former St. Louis Christian College professor Kent Sanders. (Available from Thomas Nelson starting Oct. 4, 2022.)
The movie's culmination is Presley's performance of "Unchained Melody" in Rapid City, S.D., just two months before his death. Butler sits at a grand piano, then the scene cuts to historical footage of Presley's actual performance. It is a powerfully moving and fitting ending for the movie and for Elvis himself, who, we hope, now truly does sing his melodies, unchained.
DISCUSSION POINTS
If you'd like to engage with others about this movie, but on a deeper level, try some of these questions:
How would you recognize if someone were trying to deceive or take advantage of you? 
What are some ways fans hurt the stars they love? How can we avoid participating in exploiting them? 
Did Elvis Presley's career help the black community, or did he just appropriate black culture without giving back? What, if anything, should he have done differently? 
What would you say to, or do for, a family member who is pursuing worldly success in a self-destructive way? 
Do you think Hollywood deliberately downplays the role of faith in the stories it tells? If so, what might be some reasons for this? 
Knowing what you do of Presley's flaws and faith, do you expect to see him in Heaven? Why or why not?  
Andrew Wood, a former missionary to Ukraine and associate professor at Nebraska Christian College, is a freelance writer and serves in marketing and advertising sales with Christian Standard Media.