By Justin Horey
Alberta Bible College is celebrating its 90th anniversary this weekend with three days of festivities beginning today (Sept. 16). The anniversary celebration kicks off this evening at 6:00 with a gathering of alumni and supporters on campus. Tonight's event will include a Hymn Sing and a time of reconnecting. Night one is scheduled to conclude at 9:30 p.m. 
Tomorrow from 1:00 to 5:00 p.m. will be Alberta Bible College's 90th anniversary carnival and birthday bash—featuring games, activities for children and families, food trucks, and worship music from Bow Valley Christian Church in Calgary. Tomorrow's festivities will also include a book sale to benefit the college library, and cultural dances honoring First Nations people who traditionally occupied the land that is now the city of Calgary.  
Sunday, the 90th anniversary celebration will conclude with a private event for board members, faculty, staff, and students from 4 to 6 p.m.
This weekend's celebration is not just a recognition of nine decades of Christian education; it is a time to give glory to God for the ways he has blessed and continues to bless the work of Alberta Bible College.
"The college has done well throughout the pandemic," said president Stan Helton. "It has not been easy—but by the grace of God, we are stronger, even better prepared, and are ready to take on what God has for us next."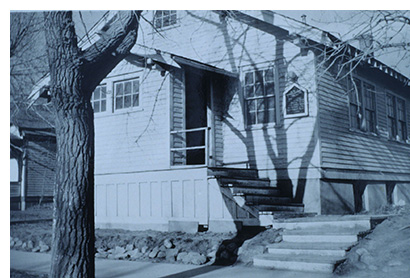 Alberta Bible College was founded by Charles Henry (CH) Phillips in 1932, during the Great Depression. For its first full semester, the college enrolled just one student. In those early years, Alberta Bible College met on the campus of Central Church in Lethbridge, Alberta, where Phillips was the minister. By 1937, the school had relocated to Calgary. ABC relocated again in the 1960s before eventually settling at its current location in 1997. 
Today, with a vision to "prepare people to lead active Christian lives in whatever field God calls them," Alberta Bible College is focused on teaching students to study Scripture and training them for ministry-related fields—including preaching, counseling, and nonprofit leadership.
More than 1,100 students have graduated from ABC since 1932. Current enrollment is around 100 and the college is continuing to expand its impact throughout Canada and the Western United States.
"Last year we had more classes taken than any time in my past seven years as president, and we are anticipating growth in the coming year," Helton said.
All are invited to attend the 90th anniversary celebrations on Friday and Saturday. There is no charge for admission, but RSVPs are requested. Board members, staff, faculty, and students can RSVP for Sunday's private meet and greet by emailing [email protected]. For more information on this weekend's celebration, visit www.ABCcampus.ca.
Justin Horey is a writer, musician, and the founder of Livingstone Marketing. He lives in Southern California.