By Chris Moon
Six months after Hurricane Ian devastated portions of Florida, the recovery effort continues.
The hurricane roared ashore at Fort Myers on Sept. 28, 2022, causing widespread devastation throughout the region. Many areas were flooded. Scores of homes sustained damage from high winds and rain. Cars were destroyed.
Churches and individuals from around the country have sent hundreds of thousands of dollars to support those in Florida who lost their homes and possessions, and who continue to struggle even today. Volunteers also continue to visit the state to help with projects that remain undone in the aftermath of the storm.
There's still more work to do, say those on the front lines.
"There are short-term victories, and there are long-term challenges," said Gary Cox, teaching pastor at First Christian Church in Fort Myers, Fla. 
MONEY TO HELP
Days after Hurricane Ian pummeled the west coast of Florida, Cox said it was the worst destruction he'd seen from a storm during his three decades in Fort Myers.
A lot of progress has been made since then.
Today, many neighborhoods are resuming life as normal. Tree debris largely has been removed. Roof work may still need to be completed, but for some, "they've forgotten there's been a hurricane," Cox said.
In other areas, the story is different. Some neighborhoods, Cox said, still don't have electricity. Homes have been gutted for repairs, but their owners still are waiting on contractors, insurance companies, or the Federal Emergency Management Agency for assistance.
Meanwhile, First Christian Church is doing what it can to help.
People and churches from around the country, along with FCC's own members, donated almost $300,000 to help people with their losses. The church set up an application on their website for people to use in seeking financial assistance.
The church gives up to $3,000 per need. About $225,000 has been distributed already.
"We're getting lots of thank-you notes back," Cox said.
He said he recently met a waitress who said she lost two jobs due to hurricane damage to local restaurants where she worked. Moreover, the belongings she had in storage were ruined in the storm.
Cox said he wrote down the FCC website information for her. The waitress submitted a request for help, and the church cut her a check for $2,000.
"It's like physical hope. They've lost everything. There's a lot of 'I don't know what to do' going on," he said. "Then to get a check in the mail for $1,000 or $2,500—it's a ray of hope is what people are saying."
Cox said the church will be hosting a free mold clinic twice a week to treat people who have mold-related illnesses. If unchecked, mold in homes can cause people to become sick.
"That's the big fear now," Cox said. "They're using the word 'epidemic' in our area."
For the church, the emphasis is on doing the work of Jesus in the community.
Rent prices continue to rise because of the storm. Some people complain FEMA isn't doing enough to help. Some complain politics are slowing things down.
"You hear so many stories of people's frustration and anger, and people are living on edge," Cox said. "Stress levels are high."
He said the church leadership keeps telling the congregation, "There's never been a better time to be salt and light."
Little things can make a difference. One bit of instruction for the church: "Tip heavy," Cox said.
People in lower-wage jobs can use the encouragement.
"Talk about Jesus," he said. "Don't just leave a tip and not talk about Jesus."

VOLUNTEERS FROM ACROSS THE COUNTRY
Mason Lambert, U.S. disaster response director for International Disaster Emergency Service, said his organization continues to host volunteer teams in the Port Charlotte, Fla., area (even as it also helps with recovery from a spate of tornadoes in the Midwest and South and a devastating earthquake in Turkey and Syria).  
IDES has been working out of New Day Christian Church in that community. Churches and organizations from across the country have been sending teams of volunteers to help. 
"We're always hosting out-of-town volunteers," Lambert said.
Initially, teams on the ground were tarping roofs, gutting homes, and removing downed trees and limbs. Today, the vast majority of the work is in rebuilding, Lambert said.
Teams are putting new siding on homes and doing a lot of interior work, like hanging drywall.
Lambert said IDES expects to be on the ground in Florida at least through July. He said local families still dealing with the disaster are a mix between discouraged and hopeful.
"It depends on where they are at in the rebuild process," he said.
With donated funds, IDES has been helping families pay their insurance deductibles or cover costs not covered by their insurance. One major insurance company went bankrupt after Hurricane Ian, which increased the need for help.
"We are still in need of funding," Lambert said.
He said the work has borne fruit.
Lambert recalled a team of volunteers coming to help from Indiana. The group did some demolition work and framing in a home.
The wife of the couple who owned the home attended New Day Christian Church, but her husband did not. The man had been disengaged from church for some time.
But after seeing churches reach out to help, and being challenged by the volunteers on site, he began attending again.
"It was really cool to see that," Lambert said.
REMODELING BEDROOMS FOR KIDS
Matt Swearingen, lead pastor at Crosspoint Christian Church in Cape Coral, Fla., said his congregation continues to wait for work to be completed on one of its buildings.  
The structure that houses its student ministry and staff offices was damaged during the hurricane. But the building still has been usable.
"Finding contractors with availability to fit you in is really hard," Swearingen said.
While they wait for their own work to be completed, the church has continued to turn its eyes to its community.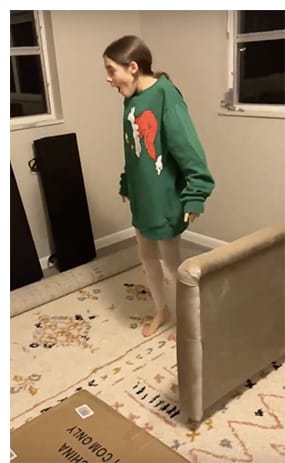 Crosspoint has partnered with Miamisburg Christian Church in Ohio to help families rebuild and refurnish their kids' bedrooms. The hurricane caused broad flooding. In many homes, all of the kids' furniture, toys, and books were destroyed. 
"We're trying to walk alongside families as they are going through this," Swearingen said.
Swearingen said the Miamisburg church volunteered to help finance a project for kids, and the church took up an offering at Christmas to that end. MCC contributed $10,000 to the effort, Swearingen said.
Meanwhile, volunteers from Crosspoint have helped with the renovations.
A total of 17 families and 32 kids will be helped by the effort—all of them nominated from the Crosspoint congregation, Swearingen said. Some of the families are from within the church, and some are not.
Volunteers sit down with each family to determine how to renovate each child's bedroom. They find out the interests of the child and decorate accordingly. For instance, a kid who is a big Spider-Man fan will get a room that suits him, Swearingen said.
Some interior decorators who attend the church have helped with the project.
Because all the families nominated for the project are known by at least one person within the church, the connections are natural.
"For some of these families, it's an incredible opportunity to share who Jesus is," Swearingen said.
Swearingen said his congregation has been reminded during the past six months that being a church means more than just getting together to worship on Sundays.
"We're called to be the hands and feet of Jesus," he said.
The church also has refocused on the important things in life. The hurricane was a "clarifier" of what those things are, Swearingen said.
"The teaching of Scripture is clear the things of this world fade away," he said.
The church, he said, is "investing in what is eternal."
Chris Moon is a pastor and writer living in Redstone, Colo.