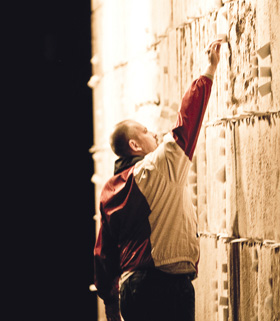 By Kim Butts
For close to 30 weeks this year, believers from Christian churches and churches of Christ have participated in "Light the Fire: 24-7-520," part of Restoration Revolution, a 10-year collaboration to share Jesus with all peoples. "Light the Fire" began on New Year"s Eve 2010 and will continue through December 31, 2020. It is not a program or an event, but a 10-year journey of prayer for the nations.
Churches in several states, the nation of Venezuela, mission organizations, and Bible colleges/universities have set up dynamic prayer rooms to invite and seek God"s presence. A "torch" of prayer is being passed from place to place on a weekly basis as one group hands off to another with prayer, testimonies, and blessing! Here are just a few of the many testimonies so far:
It was impossible to spend this much concerted time with God and not have it affect me. In just one week, I"m already finding a new reliance on God and the time I spend with him. I cannot imagine going back to my previous level of prayer. How did I make it through my day without at least one solid hour alone with him? (Carla, Team Expansion)

Our week has been incredible. Our students have finished their year with power and by being humbled before the Lord. "Light the Fire" is great! Sign us up for the next nine years! (Danny Harrod, president, Boise Bible College)

The more time I spend in prayer, the more I fall in love with it. It"s like a date with God, and now we have a special place for "dates"! I know we can pray anywhere, anytime . . . but it sure is nice to also carve out a physical space for it. (Erin, Louisville Bible College)

I am seeing a change in the hearts of the people about how they view prayer, and that is a mighty move of God in the hearts of his people! I am rejoicing tonight! Hallelujah! I have been blessed! (Anonymous, Christian Church of DeMotte, Indiana)

I went three different times, and every time I felt close to God in different ways. I never thought myself a prayer warrior, but didn"t have a lack of things to pray for. Thank you, God! You have blessed me. (Anonymous, Christ"s Church of the Valley, Peoria, Arizona)

Each day, I count down the hours until I get to come and be with God in this room. May each church that participates in "Light the Fire" be changed. (Anonymous, Team Expansion)
The creativity and variety of prayer rooms have been so incredible! From small, modest spaces in tiny meeting rooms to gymnasiums and other large areas, God"s heart for the nations has inspired many to craft unique sacred spaces. They have invited young and old, singles, couples, and families to experience his presence in the prayer room.
Christ"s Church of the Valley in Arizona constructed a one-tenth scale Jerusalem Wailing Wall in a building on its campus. Several churches in Caracas, Venezuela, joined forces to each take one day of the week to pray. Team Expansion sustained a week of prayer with less than 30 people on its campus by involving partner churches in the area. Johnson University students set up prayer rooms in the dorms to pray through the nighttime hours (and honor their curfew). Pathway Church in Johnston, Iowa, set up a prayer room at a hotel hosting an atheist convention just so they could intercede for these lost people!
Each church, school, and group is finding its own Holy Spirit-guided expression within which to seek the face of God for the completion of the Great Commission in our day!
How You Can Participate
Pulling off a week of day-and-night prayer is not as difficult as you might think! If you desire to see God move in your midst as your church, organization, or school becomes the "house of prayer for all nations," you can participate in "Light the Fire:24-7-520." All the tools and information you need are located on the Restoration Revolution website, www.restorationrevolution.com. Simply go to the Almighty drop down and look through all of the available resources and downloads. Sign up to participate by filling out a simple online form or by contacting me, Kim Butts of Harvest Prayer Ministries, at kim@harvestprayer.com. I will help any way I can!
Ten years of unending prayer seems like a very ambitious goal, and this first year has had some gaps. However, our prayer is that we will see many churches and groups jump into this exciting river of what God is doing in our midst. How wonderful it will be if eventually we have many churches, colleges, and organizations signed up each week all over the world for the sake of God"s kingdom and to bring him honor and glory!
His Holy Spirit has moved this journey of prayer from place to place. Many have been blessed as they"ve discovered how to meet with God in creative ways for an hour or more at a time, focusing on his desires rather than their own.
Kim Butts is cofounder of Harvest Prayer Ministries, Terre Haute, Indiana.