By Jennifer Taylor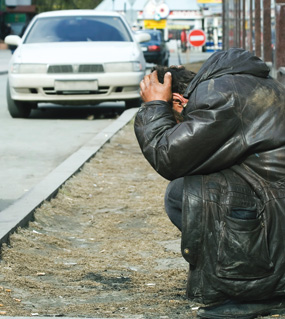 Damon Mendel was once homeless and broke, sitting on a street corner in Las Vegas, Nevada. Today he helps lead 249 & Hope, a ministry to the homeless on Texas Highway 249 in Cypress, Texas.
Mendel, his wife, Jackie, and Dave Chavez, missions pastor at Cy-Fair Christian Church (also in Cypress), launched the ministry in November 2010. Each Saturday morning volunteers from Cy-Fair and partner church Graceview Baptist meet to load cars with hot food, hygiene kits, new socks, and other donations. The volunteer teams visit eight different street corners each Saturday.
"Sometimes we"ll also have sleeping bags, tents, or clothes to give away," says Randy Brockley, a 249 & Hope volunteer. "Church members make the food at home; usually pasta or something else that"s easy to make for a large group. For many of the homeless people we serve, it"s the most nutritious meal they"ll get all week."
But the food is just a way to open the door for relationships.
"We always offer to pray with each person and ask about his needs," Brockley says. "Sometimes an individual will cry just because someone has acknowledged him and paid attention."
In the 18 months since 249 & Hope began, volunteers have also helped the homeless of their community with rehab opportunities, jobs, and to connect with estranged family members.
Brockley admits he used to be one of the people who ignored the homeless on the street corners of his city, and initially found it difficult to visit them.
"Now I know who they are and what their stories are," he says. "After awhile, they"re not "˜the homeless"""they"re friends."
""Jennifer Taylor