By Mark A. Taylor
Of all the articles about missional ministry we"ve posted this month, I like the stories from churches most. Maybe you agree.
Although we"re energized by the insights of missional leaders like Matt Smay and Alan Hirsch, their ideas come to life in the strategies, experiences, successes, and failures of local congregations. Rivertree Christian Church, Massillon, Ohio; Community Christian Church, Naperville, Illinois; and Southland Christian Church, Lexington, Kentucky, encourage us with the new paths they"re blazing.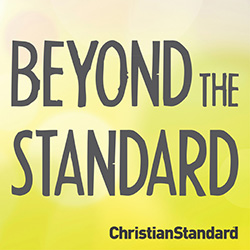 And now you can hear leaders from these three churches discuss their ministry. We"re bringing them to you via CHRISTIAN STANDARD"s new monthly interview program called Beyond the Standard.
This Thursday, June 20, at 11:00 a.m. Eastern Daylight Time, I"ll be talking with Greg Nettle from RiverTree Christian, Jon Ferguson from Community Christian, and Jon Weece from Southland Christian. I"m anticipating a freewheeling discussion about why they"re ministering as they are, how the missional approach is truly different from the ministry strategies they pursued before, and what they"ve learned along the way.
You can listen to their discussion and even ask your own questions. The program is free. Just follow this link to log on and listen in at BlogTalkRadio where our program is hosted.
Our friends at BlogTalkRadio will archive the program for you to hear anytime. If you"re not available for the live presentation, just click here whenever you"re free. You might want to listen live this Thursday and then invite a circle of other leaders from your church to hear the discussion later at an elders meeting or staff retreat.
Almost 2,000 listeners have done just that with the first program in this series. George Ross, Tim Harlow, and Brian Mavis shared their heart and hope for taking Christian truth with Christlike love to the troubled people surrounding their congregations. You can listen to their discussion, labeled "Integrity in a Shifting Culture," too. Find the program among the listings on the Standard Publishing channel at BlogTalkRadio.
We"re doing all of this for four reasons. First, we know our writers have more to share than we can contain in what we publish. Second, we know our readers would like to interact with our writers""ask them questions, clarify their points of view. Third, some folks absorb more by listening than by reading. Fourth""and maybe this should be first""the topics we"re considering in these monthly broadcasts are vital to the church and its ministry.
We think you"ll agree when you listen each month to Beyond the Standard.