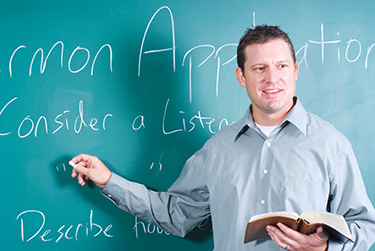 DANIEL OVERDORF
Dean of the School of Congregational Ministry
and professor of preaching,
Johnson University,
Knoxville, Tennessee
I have known Daniel Overdorf since helping his family move to Knoxville decades ago when his father became minister of the Woodlawn Christian Church. Daniel was a preschooler then, and many remember him as a mischievous little boy. That might surprise many who know him now as gentle, kind, and always with a welcoming smile.
As dean of the School of Congregational Ministry and professor of preaching, he exercises leadership through his commitment to the centrality of preaching in the life of the church. He brings theory to practice in ways accessible to undergraduate students both in the classroom and through his writings. Senior students frequently mention Overdorf as one of their favorite professors.
He also demonstrates leadership by promoting the importance of preaching beyond the campus through his involvement with the Virginia Evangelizing Fellowship, the residency program at Christ"s Church of the Valley, Peoria, Arizona, and his initiation of Preach.FEST, a program that promotes preaching among high school students with scholarship awards for outstanding sermons.
Each year a cohort of students enters into congregational ministry with a greater understanding of their role as Christian leaders, owing much of that understanding to the words and the character of Daniel Overdorf.
""Gary E. Weedman, president, Johnson University, Knoxville, Tennessee