By Tim Harlow
"Master," said John, "we saw someone driving out demons in your name and we tried to stop him, because he is not one of us." "Do not stop him," Jesus said, "for whoever is not against you is for you" (Luke 9:49, 50).
When I was fresh out of college, I became a youth minister in Amarillo, Texas. Because of a gracious grant from a Christian foundation, I was able to get my master"s degree for free. This was well before the days of the Internet, so I actually had to go to the class. The only program around was an extension program from Wayland Baptist University. Several of my ministry friends and I took advantage of the program.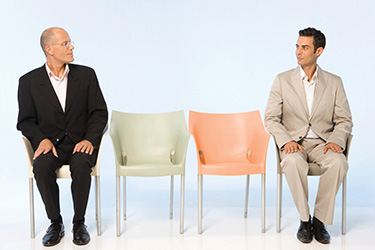 I grew up in this nondenominational movement most of you are familiar with, and I had not ventured far beyond my roots. Even though I now laugh at the minute differences with the Southern Baptists, attending a Baptist university was out of my norm.
I had no idea why someone would want to be a part of any denomination, but my eyes were opened to the fact that there are some distinct advantages (including a unified missions and discipleship approach) to go with the disadvantages (the lack of autonomy). I later studied at a Lutheran seminary and did my doctoral work with a lot of Pentecostal pastors.
I still like the way we do it, but I learned that my blinders had been pretty tight. There are many people who are for Jesus who do things differently than I do. They might even be able to drive out demons.
But my point is not about the largeness of the kingdom. It"s about why the disciples, or any disciples, would criticize or work against another kingdom worker in the first place.
A Feeling of Failure
Look at the context of the passage quoted above. Just a few verses earlier the disciples had tried to drive out a demon and failed (vv. 37-40). The guy had to go to the top""to Jesus""to get the demon out of his son. And Jesus was apparently frustrated with the whole issue.
"You unbelieving and perverse generation," Jesus replied, "how long shall I stay with you and put up with you? Bring your son here" (Luke 9:41).
The disciples just might have been feeling the sting of that rebuke, as well as the feeling of failure, when they ran into the guy who was actually able to drive out demons.
"Hey, stop driving out those demons!"
Seriously? Who cares whether he was driving out demons in the name of SpongeBob SquarePants; the demons were gone!
Ask one of the demon-free people if they care if the guy"s doctrine was not good enough. I"m pretty sure the answer would be, "We don"t care if the guy worshipped Gozer the Gozerian, we"re demon free!"
I have lower-back issues and see a chiropractor. I"ve found that there are a few major schools of thought in back care. But if I"m traveling and have to find someone to help me, I don"t care if they are from the drop-table school or the twist-you-like-a-pretzel school, I just want to walk upright. I hate looking like proof for Darwin! Just fix me!
And actually, isn"t proof of the true God manifested through the fact that there is power over demons? Jesus said Satan doesn"t cast himself out. So what could possibly be the problem here? Why would the disciples feel this way?
Maybe the disciples had their own demon: jealousy.
So when you are tempted to cut down someone else"s ministry (and I"m guilty of that at times), stop and ask yourself, "Is this really a doctrinal issue or a jealousy issue?"
An Old Problem
Back in the early days of ministry at Parkview, we lost many good people. Changing the focus and re-missioning the church meant making some people unhappy. Sometimes they didn"t tell us; we"d just see their names in another church newsletter under the "Welcome New Members" section. Ironically, I would usually find something else in that newsletter to criticize in some way (in proportion to the financial support we had just lost).
Now I"m on the other side. Megachurch. Mega is a four-letter word to many people.
Master, we saw people baptizing in your name, but we tried to stop them because they are not one of us.
I am so over it. But listen, when you are criticized for doing something because "we"ve never done it that way," it certainly may be because they are just comfortable and need to be challenged. But perhaps these are people who tried something before and failed, and they don"t know how to deal with it when you succeed.
I wonder how often that is the issue. If I don"t succeed in something related to ministry, I"m going to have a hard time allowing you to succeed. It"s called crab mentality in modern culture. Crab mentality is the idea that any single crab could escape the boiling pot of water if it wanted to, but it never happens because the other crabs keep pulling it down.
Ironically, the answer to this issue may be found in the conversation that happened in between the disciples" failure and their jealousy.
"An argument started among the disciples as to which of them would be the greatest" (Luke 9:46).
There it is. The problem (as always).
Tim Harlow serves as senior pastor with Parkview Christian Church, Orland Park, Illinois.