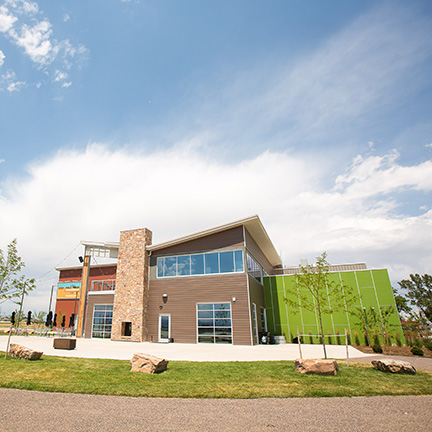 WHERE'S THE STEEPLE? — Grace Place, Berthoud, CO
By Jennifer Johnson
Sometimes it's not about the church building, but how buildings can point to the grandeur of God. When Grace Place was able to get its current property fronting U.S. 287 in Berthoud, Colorado, the design team realized the buildings were less significant than the unhindered view of sunrises and sunsets over the front range of the Rocky Mountains. Today the highly-visible church property is not only the gateway to the town but also a community space with glass roll-up doors, indoor and outdoor fireplaces, and an upper deck that provides "bleacher seating" for the beauty of creation.
The church's Trailhead Café offers great food prepared by a commercial chef who found Jesus at the church, and The Outpost welcomes children into an interactive area with kayaks, tents, and a climbing wall. The bold skin of the building takes its inspiration from the new leaf color of an Aspen tree in the spring.
Several years ago, a massive flood affected this area, and Grace Place continues to aid local residents who suffered damage and loss. The flood was a defining moment in the life of the church, and the recovery efforts led to the church's "Crosscreek Commons," a mixed-use community center with water features, gathering spaces, and trails. As the church continues to repair and restore what was lost in the flood, it points to the goodness of God inside and outside of its building.
Jennifer Johnson is a freelance writer, editor, and blogger who lives outside Philadelphia, Pennsylvania.