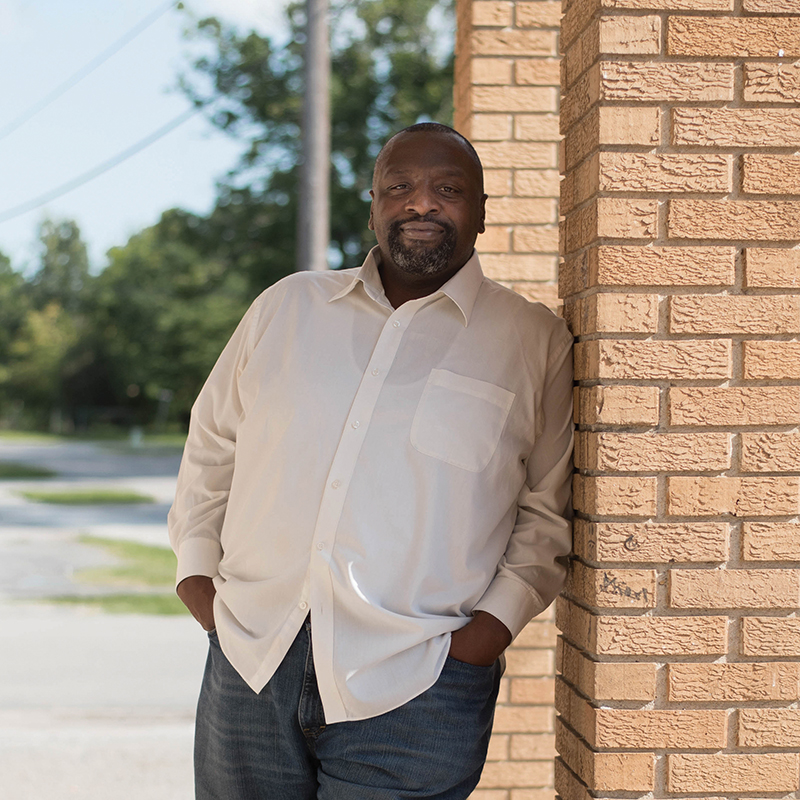 David Johnson and a Harvest of Reconciliation
By Jerry Harris
It was November in Charleston, South Carolina, but for our group of northerners it didn't feel like late fall on that beautiful and warm Sunday morning. We had arrived early for meetings that would take place over the next two days, and so we took the opportunity to attend church services at Harvest Pointe Church in suburban North Charleston. It would prove to be a new experience for many of us.
At that time, Harvest Pointe was a noninstrumental African-American church of Christ, a part of our brotherhood we had very little connection with until the past couple of years, but The Solomon Foundation, through some key relationships and opportunities, found ways to build bridges with our new friends through our common heritage. The church has since moved to implement instrumental music as part of their worship to "break barriers to reach one more for Christ."
Harvest Pointe: In Contrast to the Culture
That day, friendly faces greeted us in the parking lot and warm hugs and handshakes were waiting in the lobby when we walked in. It was a far cry from what most of the culture of the city of Charleston was feeling, particularly in this community. Just a few miles down the road at Emanuel African Methodist Episcopal Church, white supremacist Dylann Roof had gunned down nine people at a prayer meeting just 16 months before. A trial was coming up in December, and it had understandably put many on edge. Walter Scott, an unarmed African-American, had been shot by a police officer one mile from Harvest Pointe's neighborhood in April 2015, just before the prayer meeting shooting in June, and the subsequent trial was waiting on a verdict. (It ended in a mistrial when the jury could not reach agreement.)
The tension surrounding these tragedies was momentarily put aside for the worship at Harvest Pointe that day. For our group, it was nothing short of incredible. The a cappella voices of the worship team filled the auditorium with incredible rhythm and harmonies, and when lead pastor David Johnson got up to lead a new song, it went to a whole new level.
The entire service, filled with the message of the gospel and the reconciliation it provides, was such a contrast to the emotional temperature of the city. It was a great morning, meeting new people in my spiritual family, and that would have been enough. My spiritual tank was full, and now it was time to find a great place for lunch to fill the other one, but God wasn't finished yet. He had a story to tell me about his level of reconciliation that made lunch worth waiting for.
After the service, David took us from room to room, telling us about all the community-based ministries happening at Harvest Pointe. We saw how the church reaches out with Charleston Community Impact and the Impact Technology Center, providing computers, desks, and tutoring for students after school. We saw their day camp rooms, their food pantry, a teaching center for Jobs for Life, and a wedding chapel the church uses as a tool to move couples from living together to committing to God's way.
We heard about their housing initiative for the homeless. In two of the last three years, North Charleston has been devastated by hurricanes and a storm surge that crippled communities like this one, and Harvest Pointe has stepped up during these extremely challenging times to be a lighthouse of hope. And while all of that was informative and encouraging, it was David's testimony that inspired us on another level. After the tour, we asked him to share a bit about his personal story. The testimony was a vivid reminder of the kind of God we serve.
Seeking Shelter
David grew up in Charleston and decided to go into the military after high school. Among other things, he was assigned to an aviation unit that provided security for the president of Haiti during Operation Uphold Democracy. His stint in the military left David in a bad place personally, which led him to self-medicate with drugs and alcohol upon returning to Charleston. It became a spiral of hopelessness that left the former soldier homeless.

On one particular cold winter night, David told us, he was in a North Charleston neighborhood when he was robbed at gunpoint—the robbers even demanding his shoes. The near-death experience caused David to come to his senses and seek refuge from the streets.
"My grandmother always told me that as long as I wanted to change my life, that I had a place to stay," David remembered. As it started to rain, the prodigal grandson managed to get to his feet and stumble barefoot to a nearby house with its porch light on and knocked on the door, hoping to borrow a phone to call his grandmother to ask her to send for a taxi to come get him.
The man who answered the door was very stern; he asked David why he was knocking on his door. David asked the man if he could borrow a phone to call his grandmother to help him. The man shouted at David and demanded that he get off his porch. After David pleaded for assistance several times, the man told David the police had been called and they would be coming for him. David stumbled back onto the street and looked for a place to get out of the rain and hide.
A church next door had a small, yellow-brick portico. David made his way over to the small shelter and leaned up against one of the columns. In a few minutes, a police car slowly drove down the street shining its spotlight into the bushes and between the houses searching for him. The light hit the column David was hiding behind, so he tried to make himself as small as possible so as not to be seen and arrested. Eventually the police car moved on in the rain and David slept behind that column on the wet concrete of a church entrance.
At that point in his story, David pointed across the church's parking lot to its front entrance. "Do you see that column on the right? That's the one I was leaning against and hiding behind." We all were confused. "That's right," David went on. "God gave me the church where I hid from the police and took shelter!"
Turning the Tables
David finally made it to his grandmother the next day and used that rock-bottom moment to allow God to turn his life around and give it over for his glory. He went to Bible college, graduated, and stepped out into a new life of ministry. And of all the places where God might call him, it was to this small, yellow-brick church in his old neighborhood that had sheltered him. David now leads a new church family there to provide shelter to all who need it on the streets and neighborhoods in North Charleston. It's a facility filled with people who represent the beating heart of their community who refuse to turn anyone away.

Oh, and remember the man who came to the door on that horrible cold and rainy night? He was the pastor of the church at that time, and the house was the church parsonage!
In 2014, when Harvest Pointe purchased the property, there was a familiar face at the closing table.
"Do you remember me?" David asked as the papers were signed. The man answered no, but his expression gave away a different memory.
"A number of years ago, I came to your door for help on a cold and rainy night. Your house was the only one in the community with the porch light on, and I begged to make a phone call." David calmly said. "You responded that you didn't want any trouble and told me to get off your porch. That night I wanted to change my life, I wanted to get off the streets . . . I was seeking refuge. I had to get off your porch but God provided this one."
David shared with the church's former pastor that God had used that moment, that negative circumstance, to turn a prodigal life around and put Jesus in control. It was then that the final twist to David's testimony came full circle. With the purchase complete, the man who had turned David away that night handed the keys over to him. As David received the keys, he told the pastor, "Thank you. This Sunday I am going to stand where I once had to lay!"
David's story is a reflection of what God can do when we choose to be reconciled to him, and the ministry of Harvest Pointe stands as an illustration of the great promise of God: "Now to him who is able to do immeasurably more than all we ask or imagine, according to his power that is at work within us, to him be glory in the church and in Christ Jesus throughout all generations, for ever and ever! Amen" (Ephesians 3:20, 21).
Jerry Harris is publisher of Christian Standard Media and senior pastor at The Crossing, a multisite church located in three states across the Midwest.