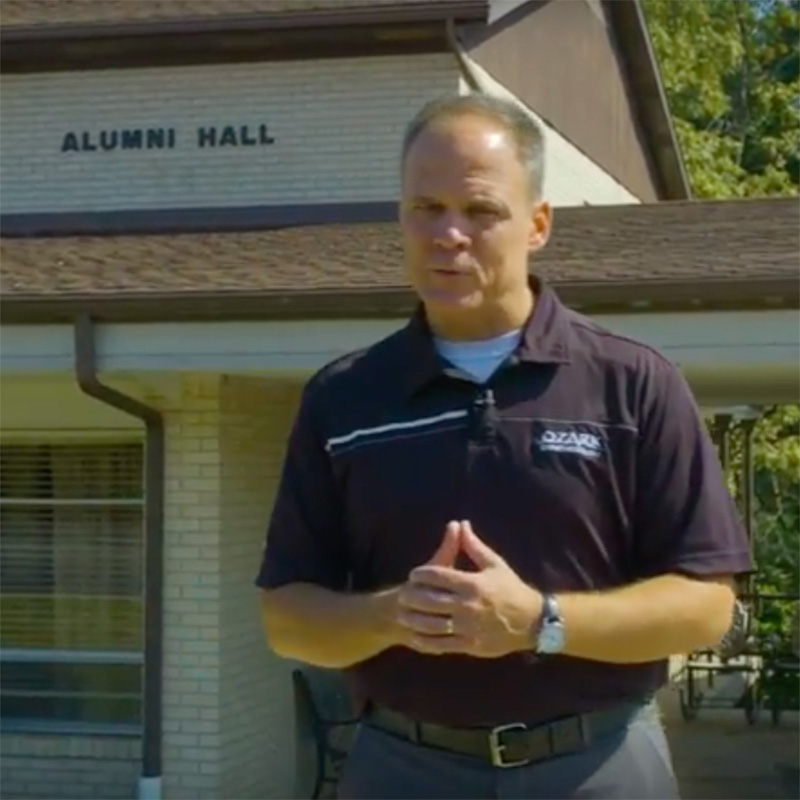 Ozark Christian College Receives $1 Million Gift
Ozark Christian College has received a $1 million gift from Rick Bronson, a longtime friend of the college, that will be used to begin renovation of its oldest residence hall.
Bronson, his wife, Kat, and his son, Chad—a 2011 graduate of OCC—believe deeply in Ozark's mission, and they trust that God will use their gift to inspire others to give.
"This is just our five loaves and two fishes," Bronson said. "Like that little boy with his lunch, we're putting it in God's hands to multiply it."
The Bronsons' gift—the largest from a living donor in the Joplin, Mo., college's 76-year history—will allow Ozark to renovate Alumni Hall during the 2018-19 school year. Work on Alumni Hall, built in 1963, will begin in September.
"Everything we have is on loan from God, and we should have no qualms giving back any of it," Bronson told the Joplin Globe.
One of the initiatives in OCC's 2018-2023 Strategic Plan is to "modernize campus facilities," including the renovation of all six dorms—all of which are 40-60 years old. While structurally sound, the dorms need a facelift—new carpet, paint, windows, doors, and room fixtures (beds, desks, closets, dressers)—along with infrastructure improvements to things like plumbing and wiring.
The estimated cost to renovate the dormitories is $1 million to $1.5 million each. In future years, Ozark plans to launch a fund-raising campaign to renovate the other five dorms.
"Because our mission as a Bible college is training vocational Christian leaders," said President Matt Proctor, "every dollar given eventually becomes lives touched by our graduates with the gospel. I believe the return on the Bronson family's investment here will be huge and eternal." (In the picture, Proctor is standing in front of Alumni Hall.)
Modernizing the campus's facilities also will include developing a plan for further Americans with Disabilities Act compliance, improving information technology infrastructure in classrooms and offices, and improving campus recreational spaces, the Globe reported.
The other four goals of the strategic plan include increasing enrollment, expanding the college's resource base, launching a graduate program, and promoting the college through targeted initiatives, according to the Globe.
Ozark Christian College was established in 1942.