History preserved at new Christian Standard Media Library in Quincy, Illinois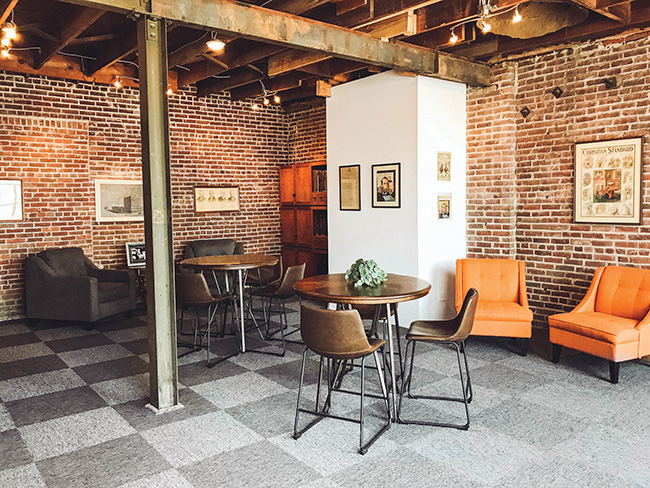 By Jerry Harris
I lacked only a fedora and bullwhip as I channeled Indiana Jones during the excavation of a deep, dark storage-facility locker in a suburb of Cincinnati. Three others joined this expedition: Mike Mack, Shawn McMullen, and Jim Nieman. And no, we didn't discover the Ark of the Covenant or the Holy Grail that day. In fact, upon first glance, the room seemed filled only with stacks of boxes on pallets, along with totes and other various objects, some wrapped in paper. But we soon began to understand the value and importance of what we were rummaging through.
As the new publisher and editors of Christian Standard Media, we explored the unit's contents and separated the wheat from the chaff . . . the priceless historical material from office supplies and outdated marketing displays and promotional items. The "good stuff" included items of artistic, literary, and historical value from the original library of Standard Publishing. These items were painstakingly preserved and shipped to their new home.
What specifically did we find? We recovered every copy of Christian Standard dating back to 1866, along with every copy of The Lookout, Young People's Standard, Pure Words, Junior Life, Jet Cadet, and every other printed magazine, all beautifully bound and preserved. It was a comprehensive and exhaustive history of our movement in tens of thousands of pages and millions of words.
The boxes also contained the book library of Standard Publishing, including many first editions. There were large oil-on-canvas portraits of Isaac Errett, first editor of Christian Standard, and his son, Russell, wrapped in paper; original hand-painted artwork for covers of Christian Standard and other Standard Publishing products; and iconic pictures of the founders of this movement. Also part of the cache was the original handwritten ledger of the minutes of Standard Publishing signed by Isaac Errett, Russell Errett, and R. W. Carroll. For us, the discoveries were priceless!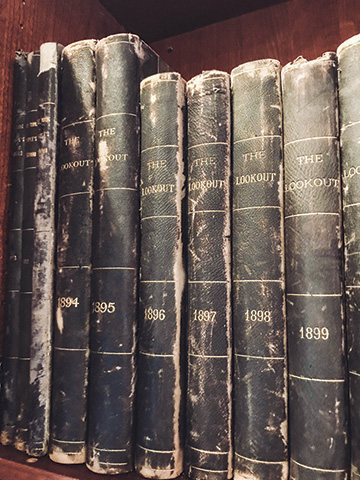 What would have become of this history had the Wicks Group—the previous owners of the magazines and, before that, all of Standard Publishing—decided to let them pass away? That will never be known because these magazines and other treasures are back safely in the hands of those who are part of our movement and care about its history. These relics are waiting to be remembered, reviewed, and reread.
We thank those who had custody of these items and kept them safe for us and generations to come. They stand as a testimony of the passion and ministry zeal of those who have gone before us and their commitment to restore the first-century church in the 19th, 20th, and 21st centuries, and beyond.
Researchers are welcome to use the library—located at 909 Maine Street, Suite 2, in Quincy, Illinois—from 9 a.m. to 5 p.m. Monday through Thursday. We hope to also provide materials online, as time allows. If you have expertise and interest in helping with this process, we would love to talk to you. Contact us for details.
_ _ _
Web-Only:
The New Christian Standard Media Library in Quincy, Illinois
If you go . . .
While in the Quincy area, you might also enjoy visiting . . .
• Historic downtown Quincy, located on bluffs overlooking the Mississippi River (go to https://seequincy.com).
• The Mark Twain Boyhood Home and Museum in Hannibal, Missouri. (By the way, Mark Twain's childhood friends were Barton W. Stone's grandchildren.)
• Mark Twain Cave (originally McDowell's Cave), which inspired elements found in five of Twain's books, most notably The Adventures of Tom Sawyer.
• Gravesite of Celia W. Stone, widow of Barton W. Stone. This is the Hannibal cemetery Mark Twain wrote about in Tom Sawyer. See more in Jerry Harris's article, "Rediscovering the Ancient Stones."
• Drive by Barton W. Stone's home on McKean Road in Jacksonville, Illinois. See more about his homes here.
For more information about visiting the library in Quincy, please contact Allison Harris: allisonh@thecrossing.net.